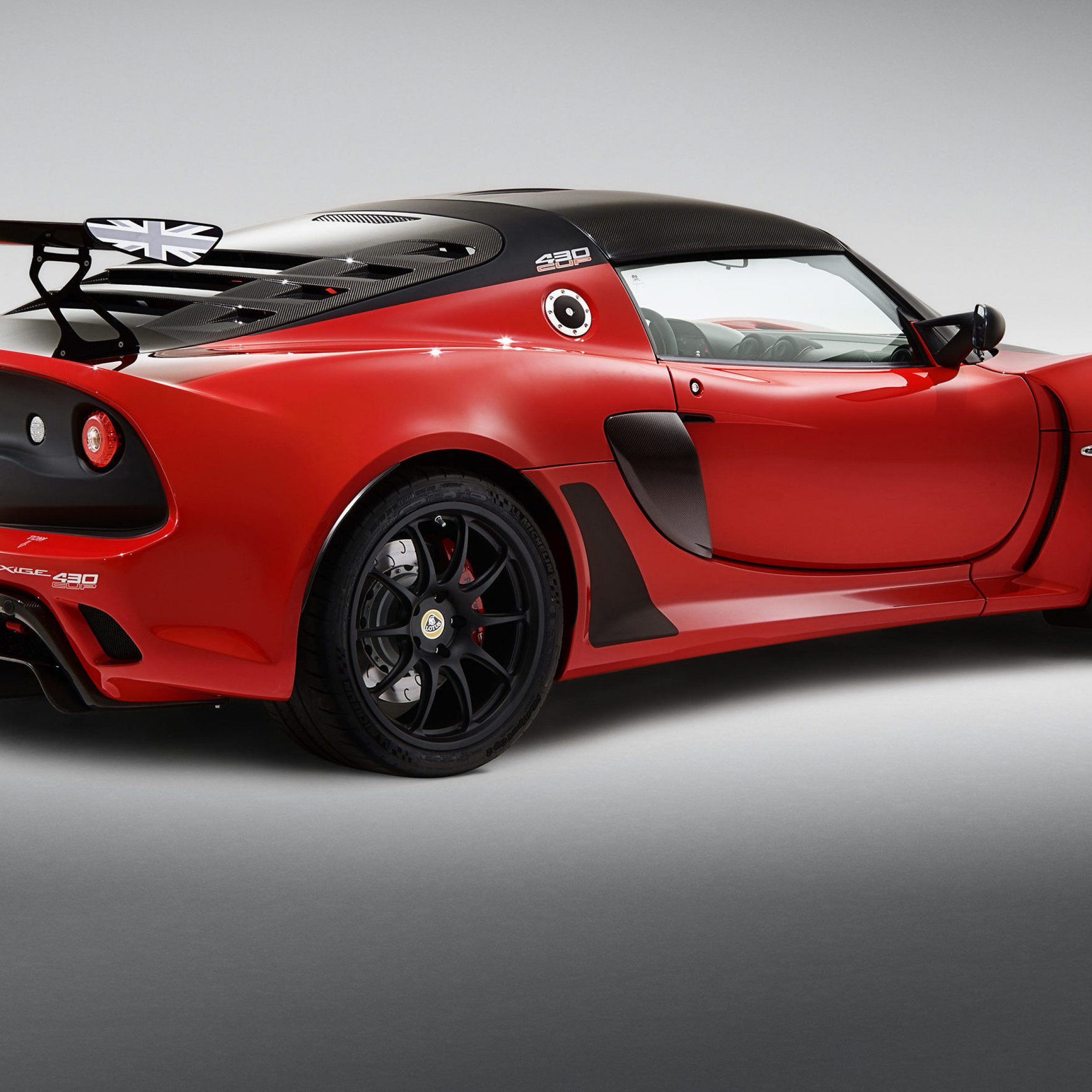 Pure thrill
The ultimate Exige experience. Chargecooled for a consistent 392 cv/1,000 kg and capable of generating 171kg of downforce, this is the road and track weapon to rule them all. The radical aero package is not for show. The Cup 430 generates as much downforce at 100mph as the Exige Sport 350 does at 170mph. Weighing just over 1110kg with a full tank of fuel, the power-to-weight ratio hits a staggering 392 cv/1,000 kg. With 440 Nm of torque from 4,000 rpm, 0-100 kph is blitzed in 3.3 seconds on the way to a top speed of 280 km/h. A new ultra-lightweight front clam has wider radiator apertures to improve cooling and a new air curtain design which reduces drag. The deep front splitter works with the vented wheel arches to generate 76kg of downforce, pinning the nose into the tarmac for even sharper turn-in. At the rear, a large, high-mounted, straight profile, motorsport wing and aluminium diffuser combine to generate a further 95kg of downforce for exceptional high-speed stability.
Race ready
The carbon fibre panels are stunning quality and motorsport-grade. They include the front splitter, front access panel, roof, diffuser surround, enlarged air-intake side pods, one-piece tailgate and race derived rear wing. Scratch the surface of the Cup's capabilities, and you'll find its motorsport-derived credentials. In addition to revised steering arm geometry (to increase bump steer) handling characteristics can be altered via Nitron three-way adjustable dampers (high and low speed compression plus rebound adjustment) and Eibach adjustable front and rear anti-roll bars, both as standard. Run a firm, aggressive set-up on track and dial it back for the journey home. Michelin Pilot Sport Cup 2 tyres (215/45 ZR17 front and 285/30 ZR18 rear) are fitted to ultra-lightweight forged alloy wheels, available in red, black or silver at no extra cost. The faster the car, the better the brakes need to be. With forged, four-piston AP Racing brake calipers and higher thermal capacity two-piece, J-hook brake discs front and rear, the system is designed to give improved bite and reduced vibration, delivering consistent pedal feel and fade-free stopping power lap after lap. The Exige Cup 430 comes race ready with a strong T45 steel roll over bar, new seatbelt anchorage frame (saving 1.2kg), a Lithium-Ion battery, baffled sump and front towing eye. Add the optional electrical cut-off and plumbed-in fire extinguisher and you are only a roll cage away from entering officially sanctioned motorsport events.
Motorsport technology
To transfer the monstrous 440Nm to the gearbox, a new 240 mm diameter clutch has been fitted, increasing the clutch surface area by 11%. With a high-flow, 10kg lighter titanium exhaust system as standard, the Cup 430 sounds like no other Exige at speed. An expression of pure mechanical fury, the titanium tail pipe emits a feral howl that can wake the dead. Motorsport-derived variable traction control, linked directly to the ECU, helps maximize traction on corner exit by managing the giant surge of torque. The six-position rotary switch is located on the steering column. Only active with ESP switched to 'off', five pre-set traction levels (1%, 3%, 6%, 9%, 12% slip) as well as "off" are displayed via the instrument cluster.
Road capability
A car capable of inspiring both shock and awe in drivers and passengers alike, once back down to road speeds the natural balance, refinement and instant torque of the supercharged V6 come into their own. A surprisingly amenable car on the road for something engineered to test your bravery on the track, the Exige Cup 430 never fails to inspire, engage and reward skilled drivers.
Colour Options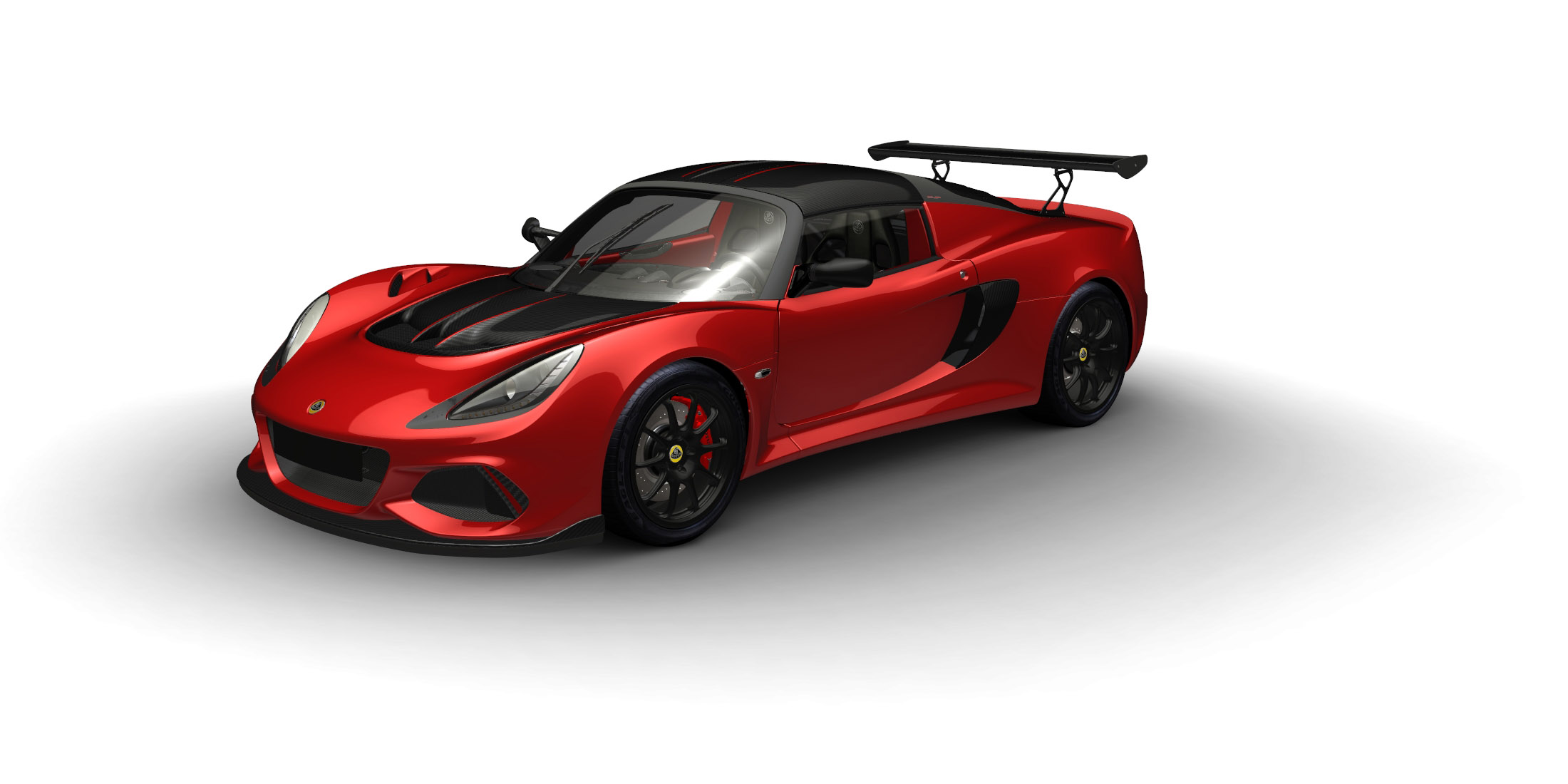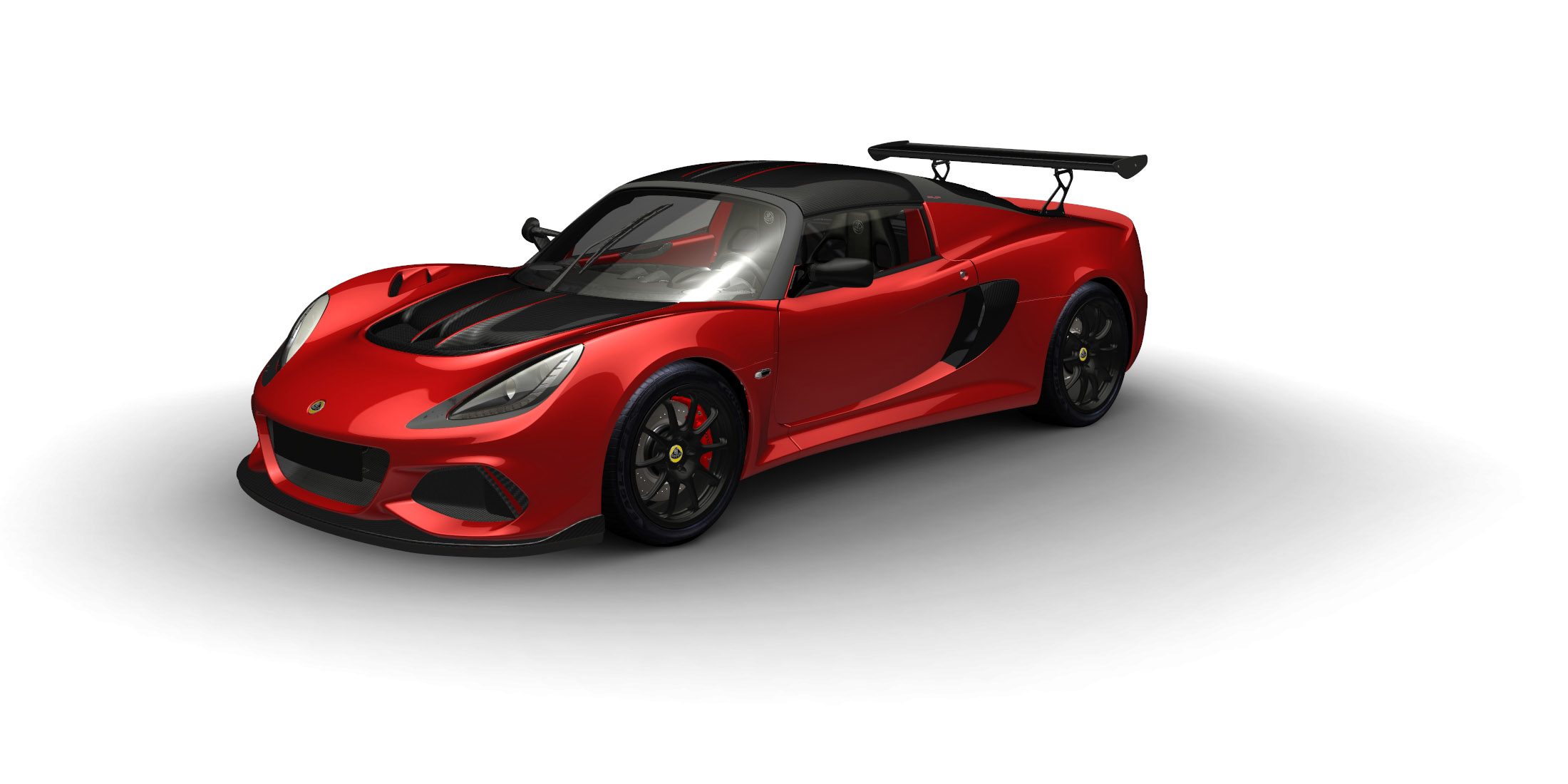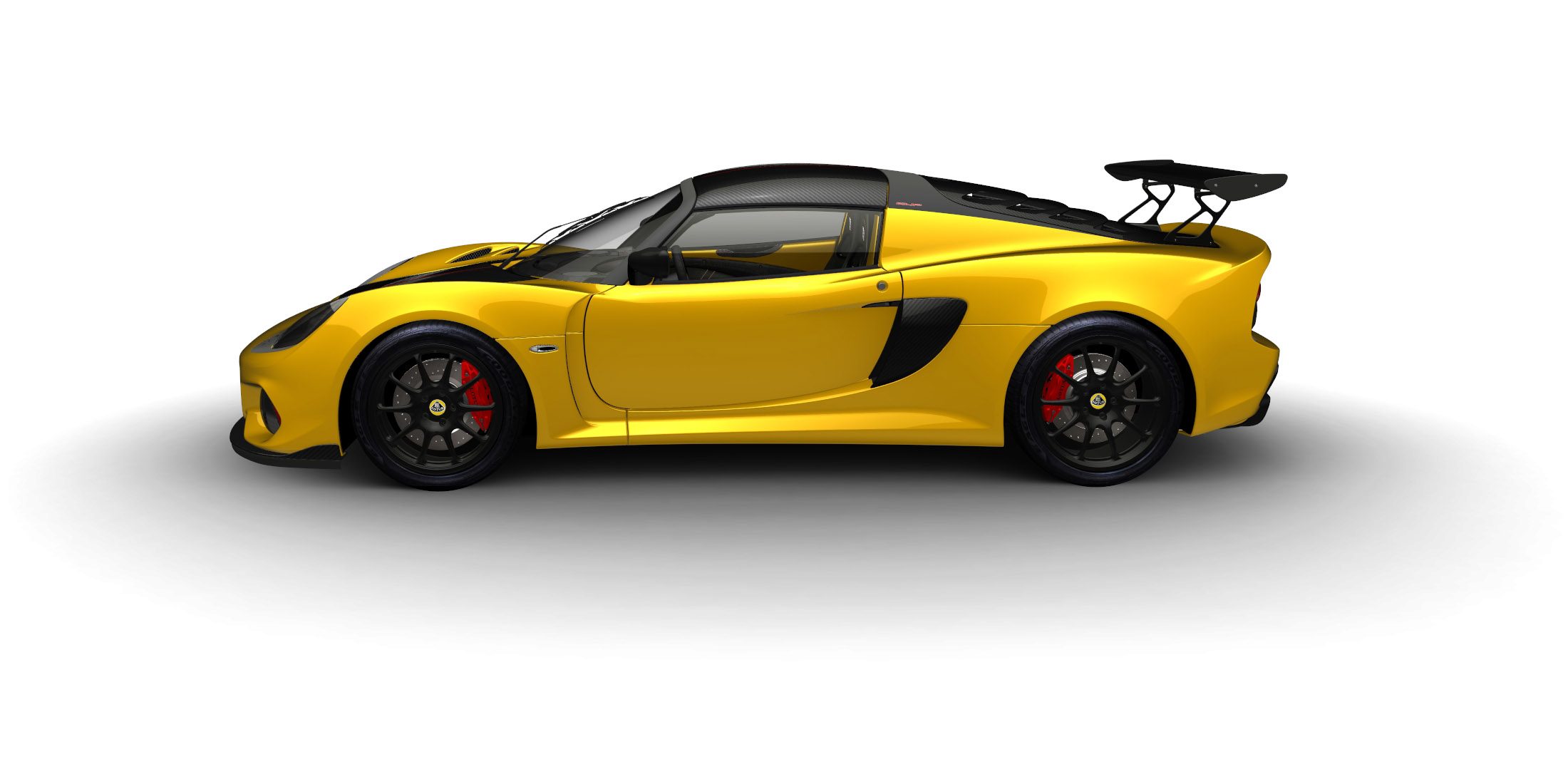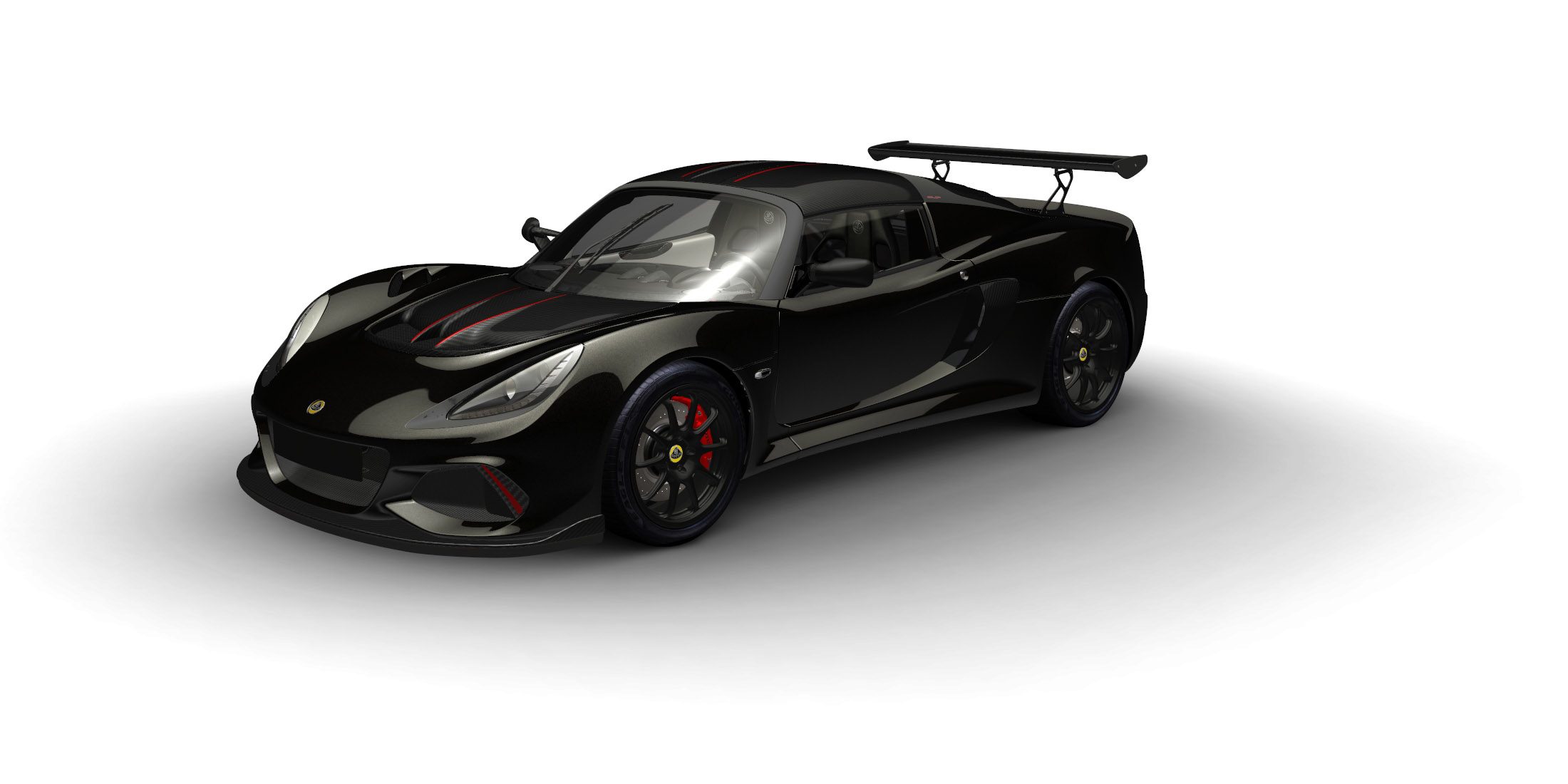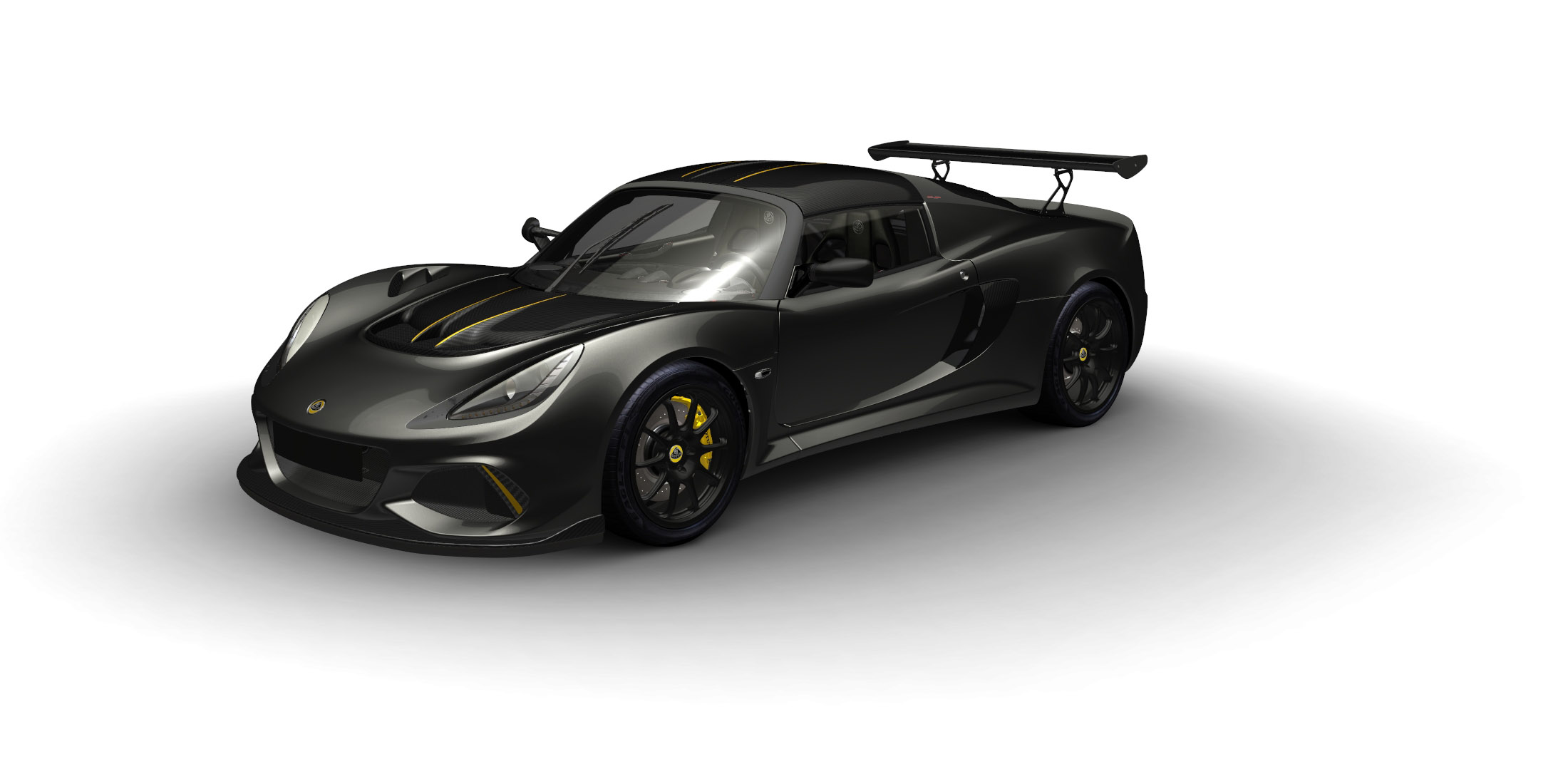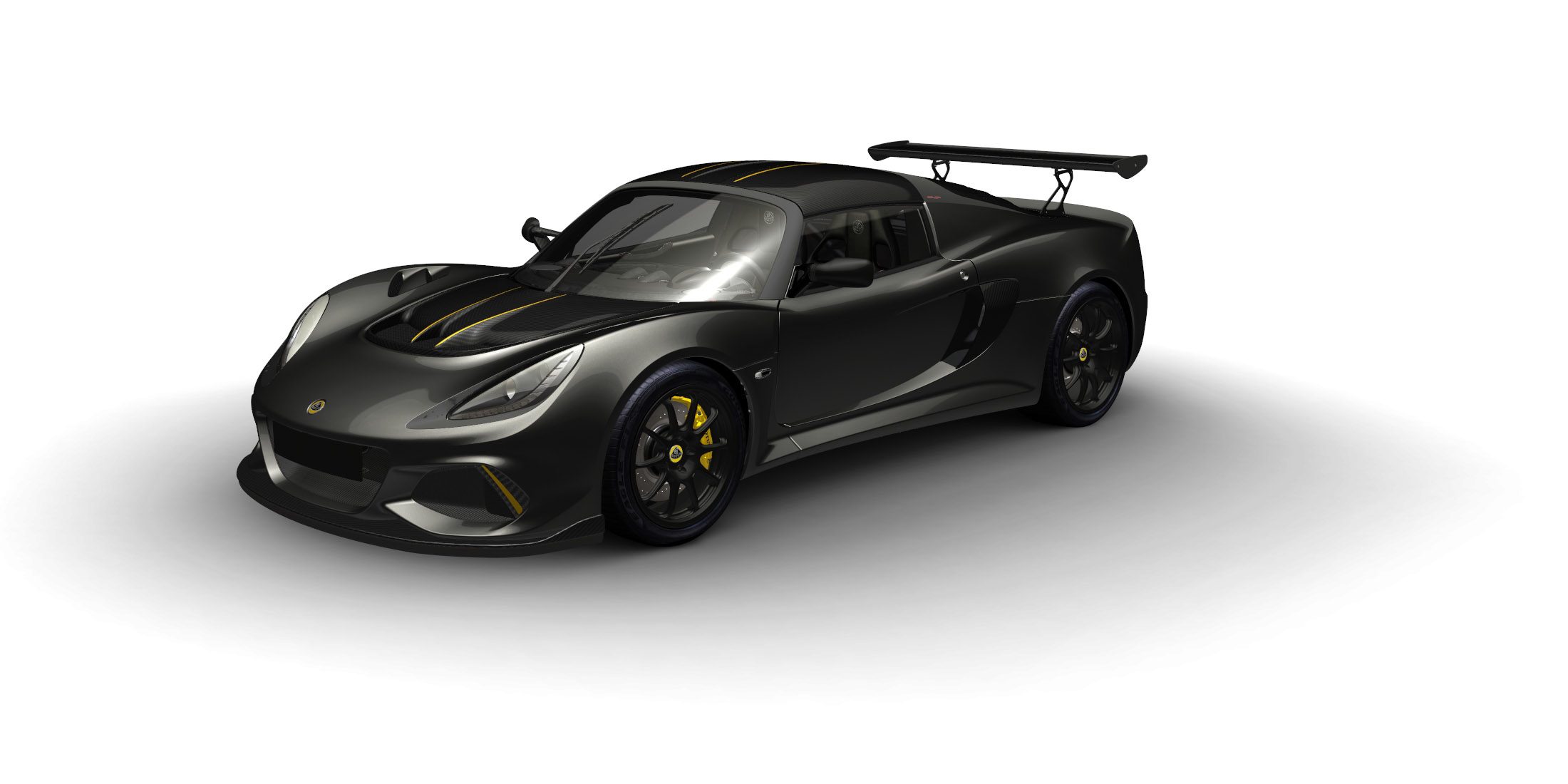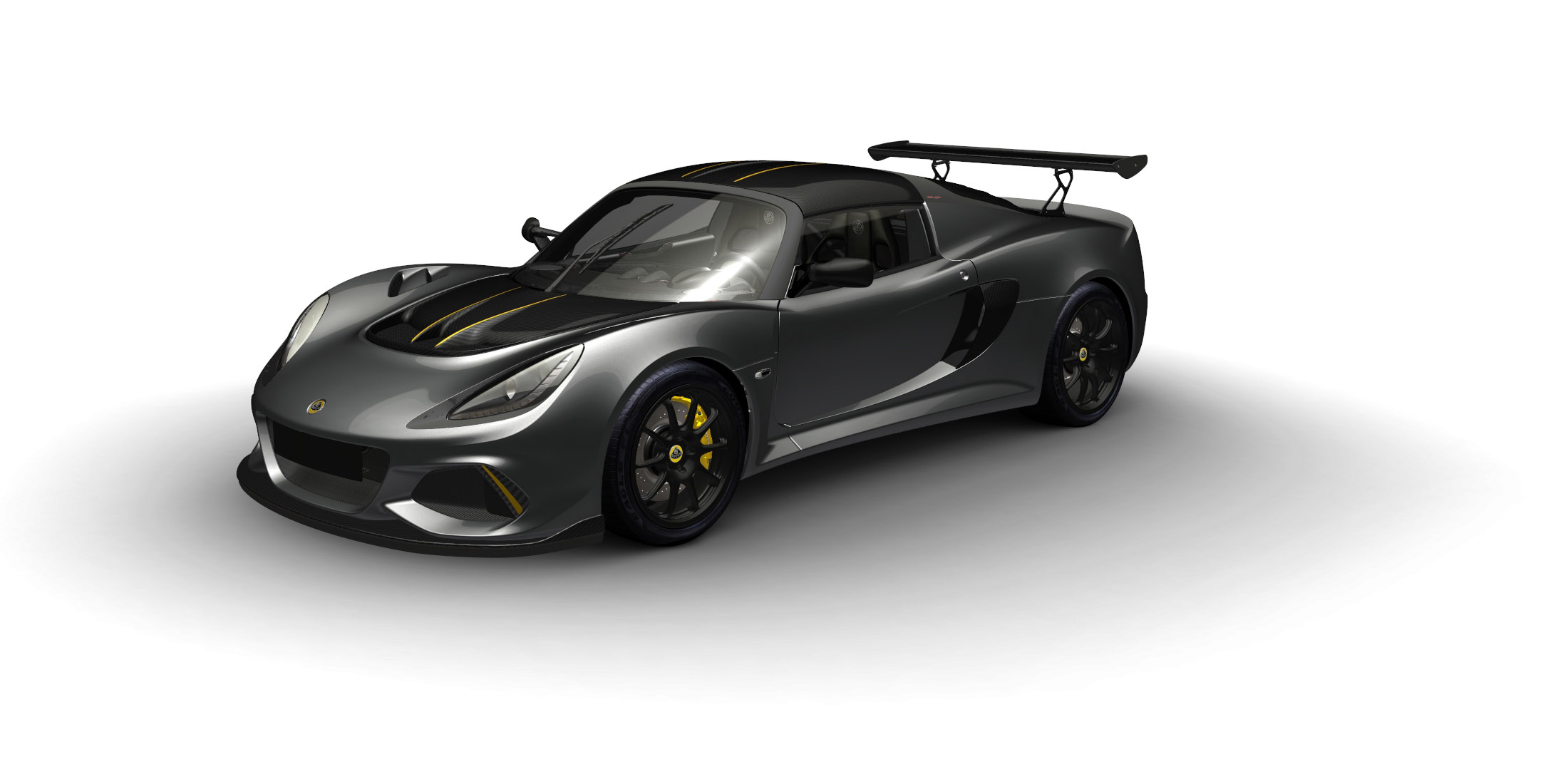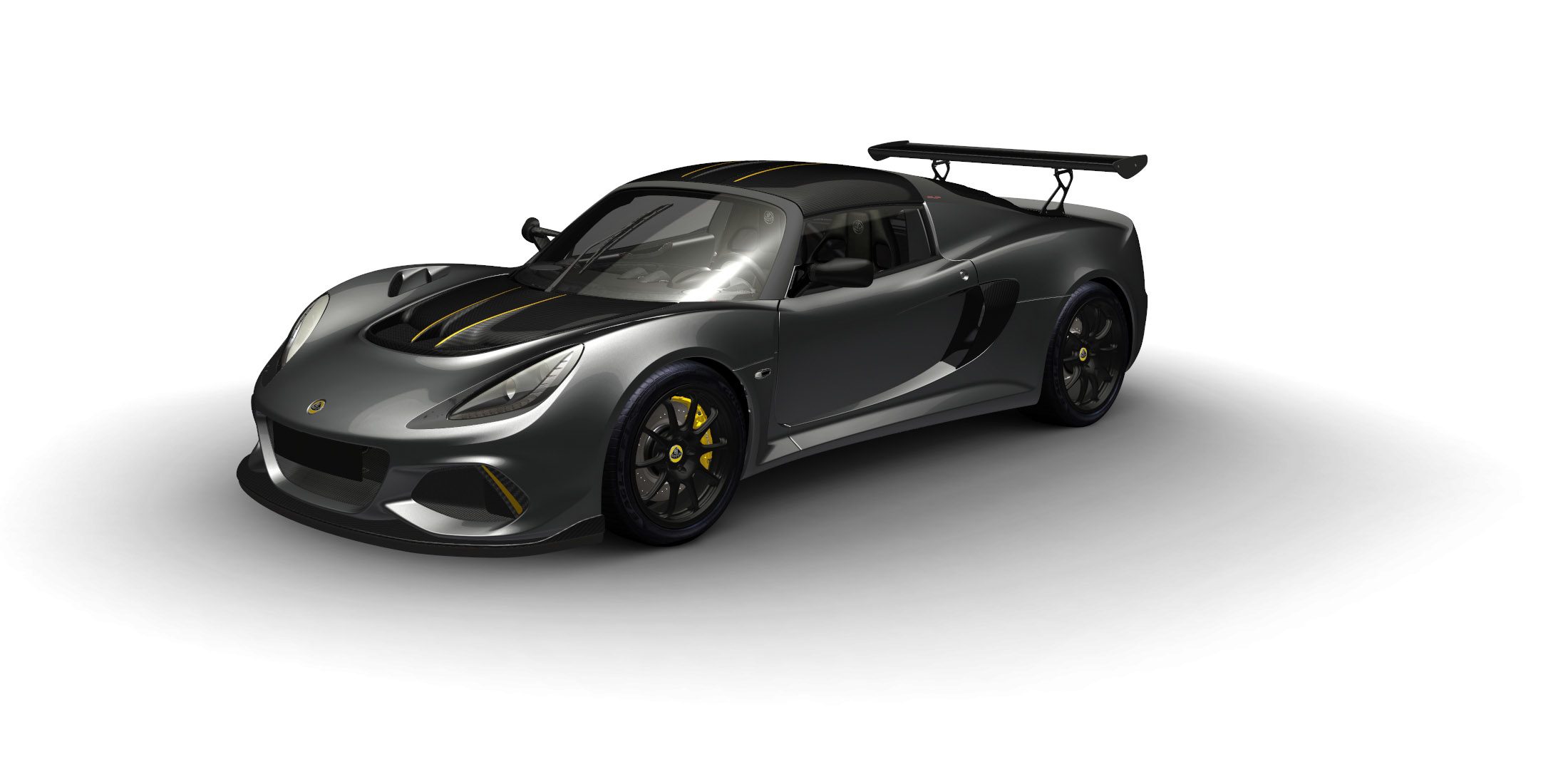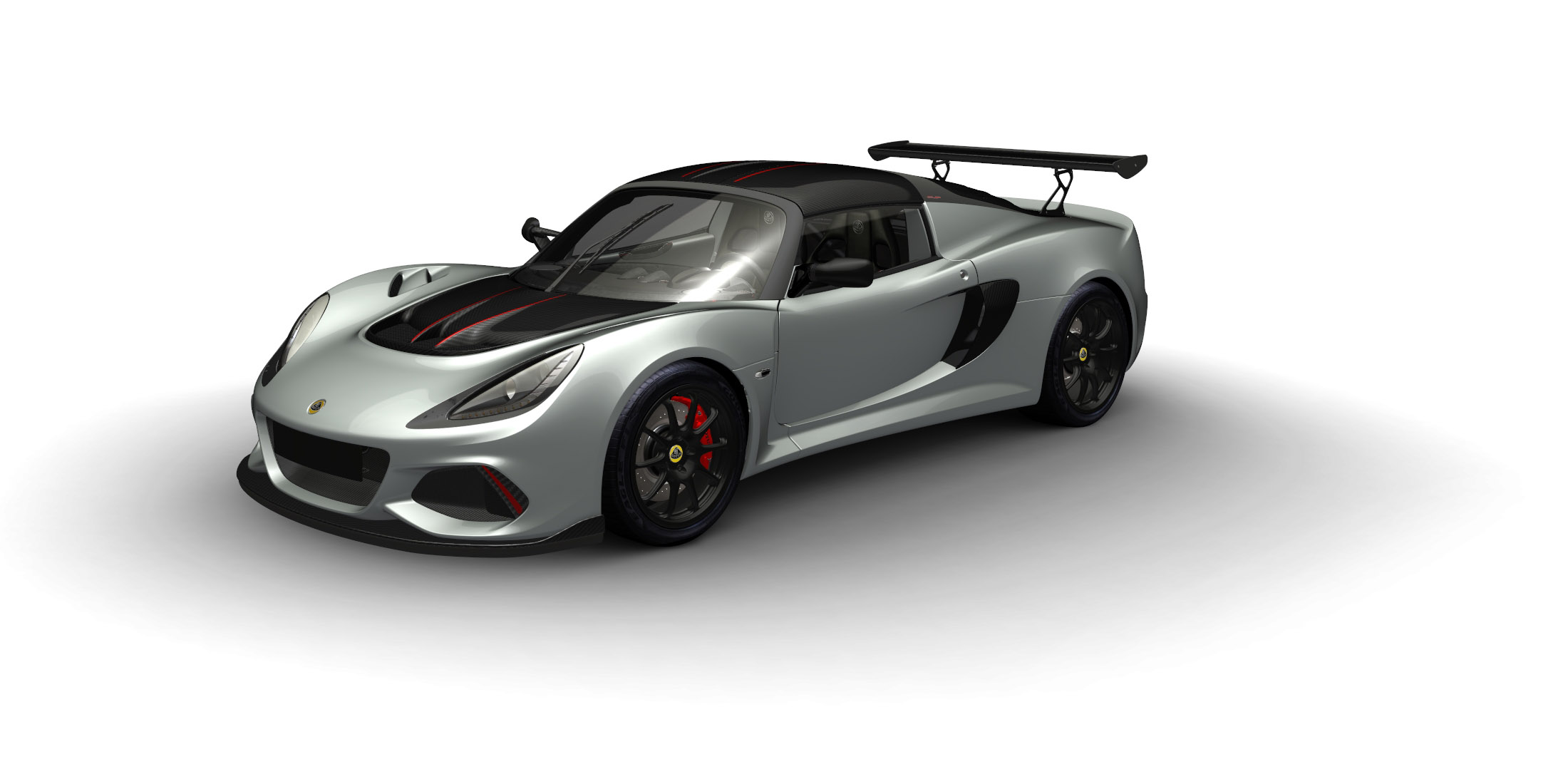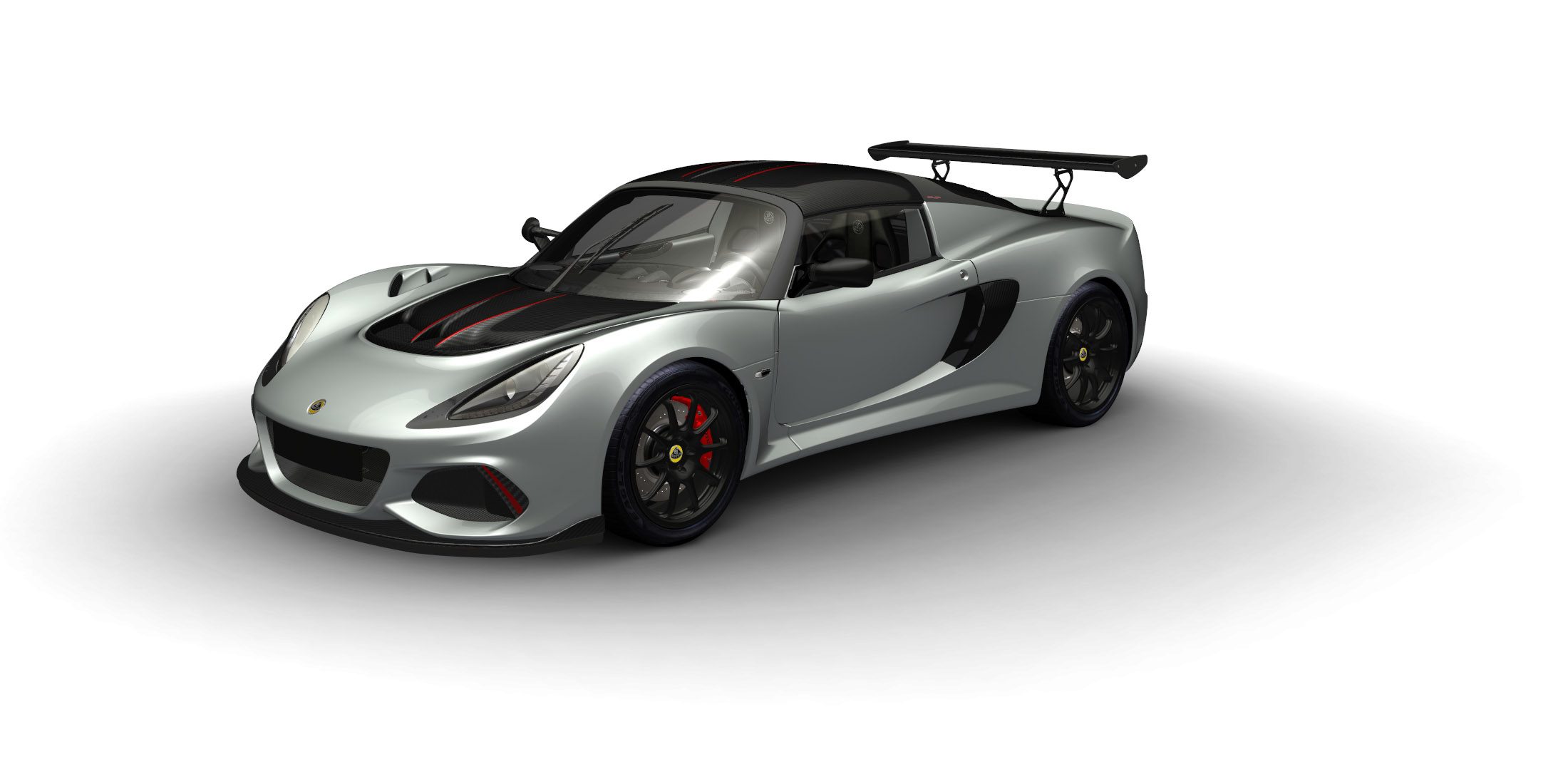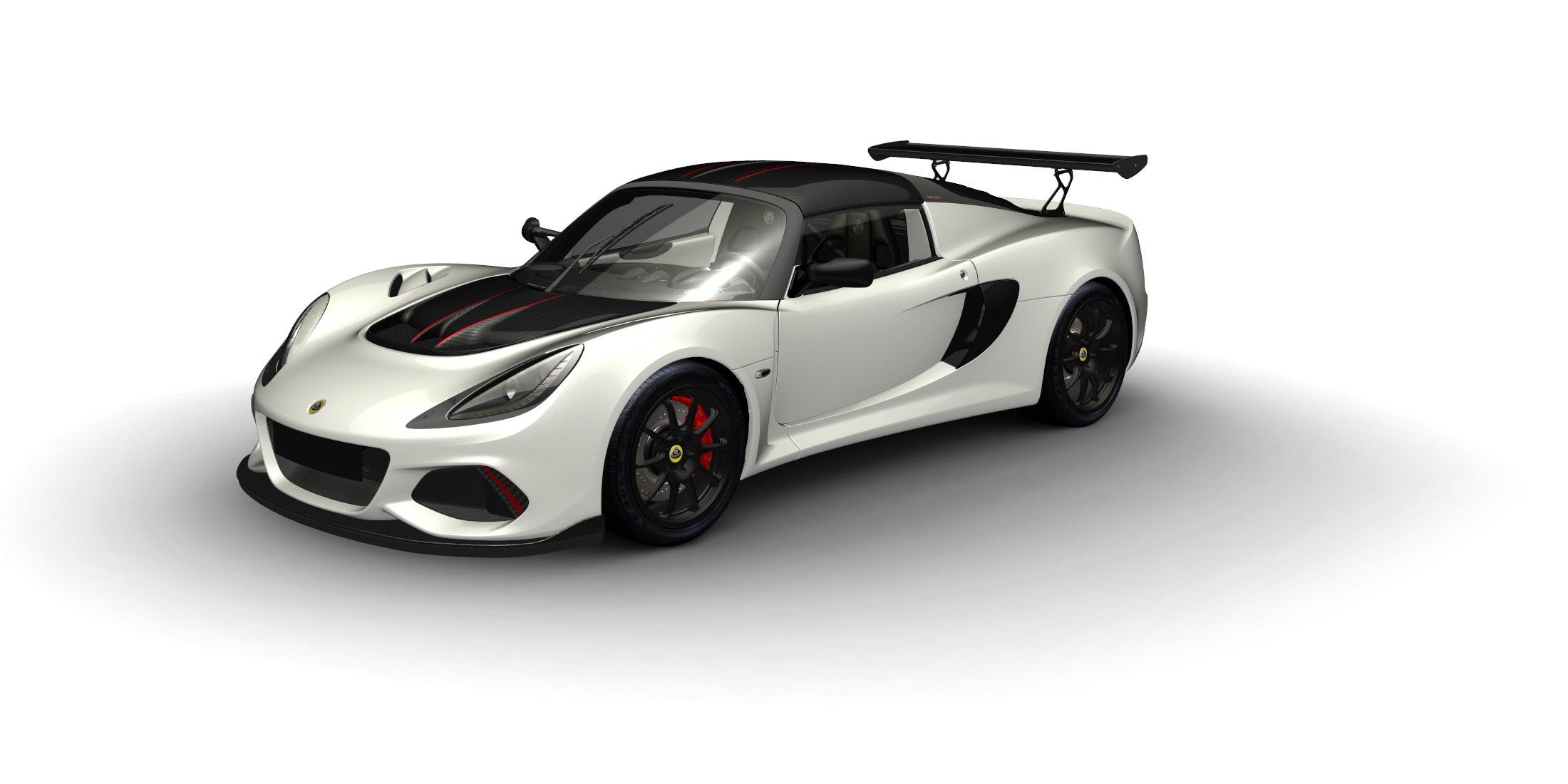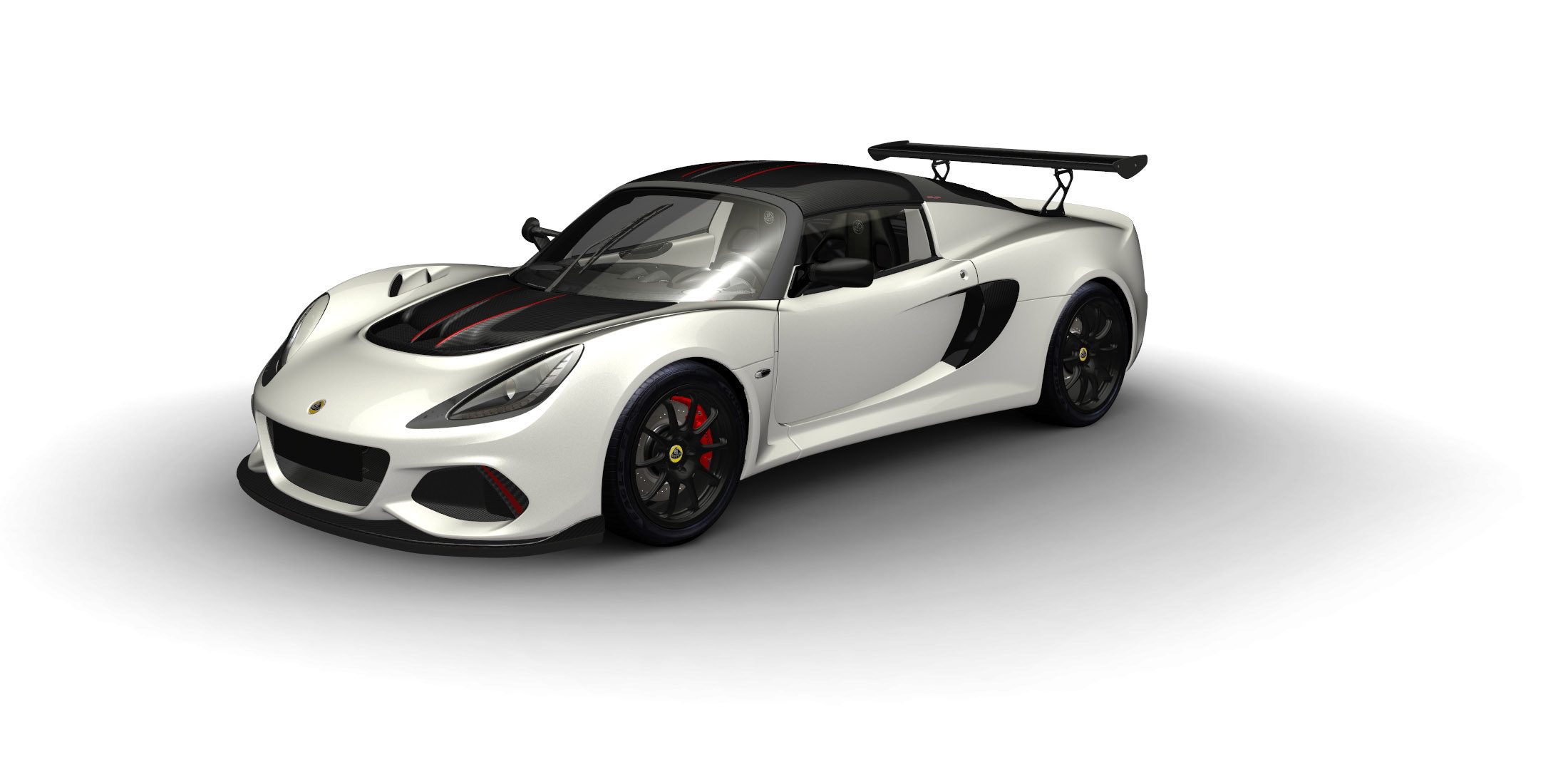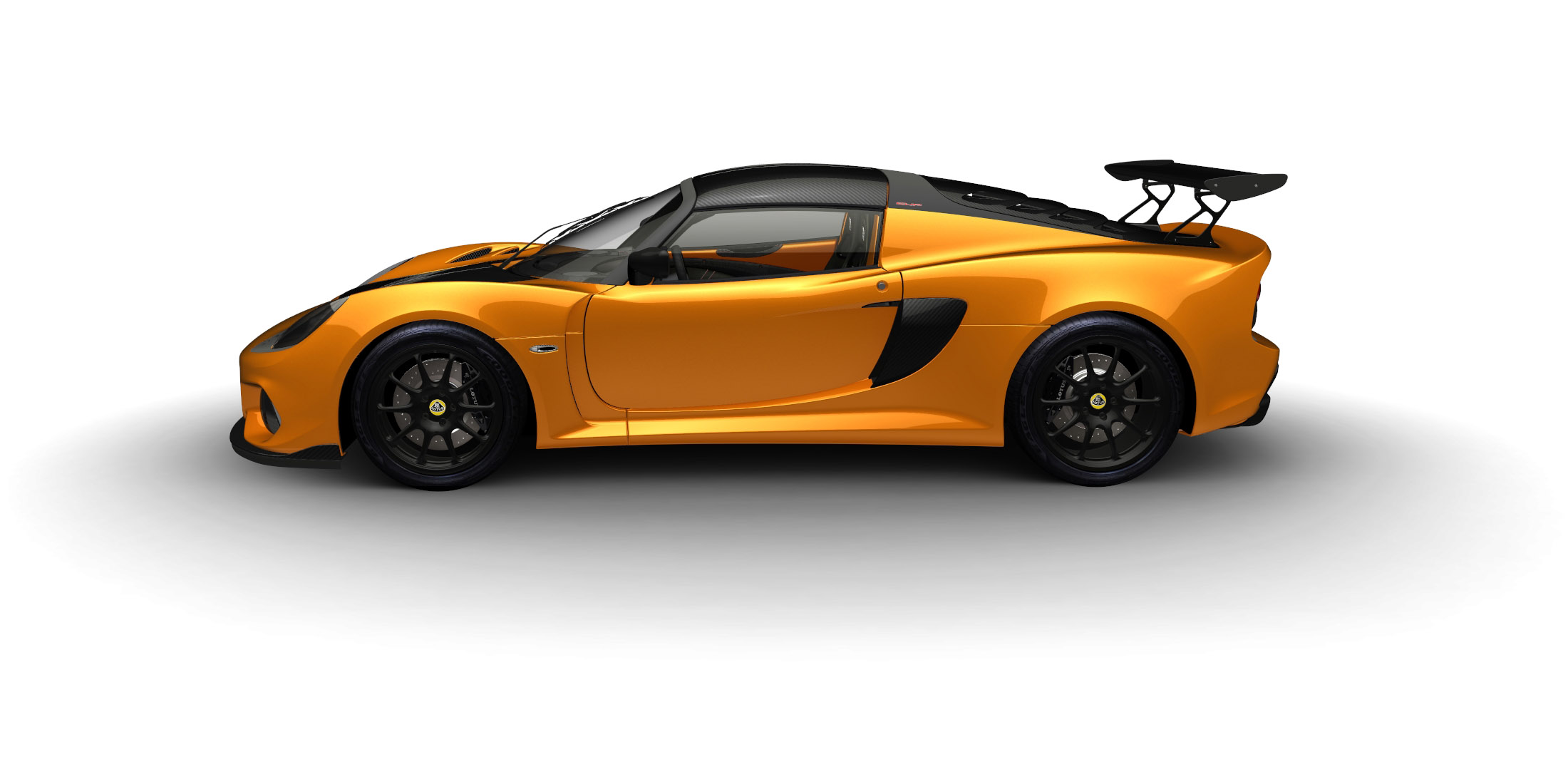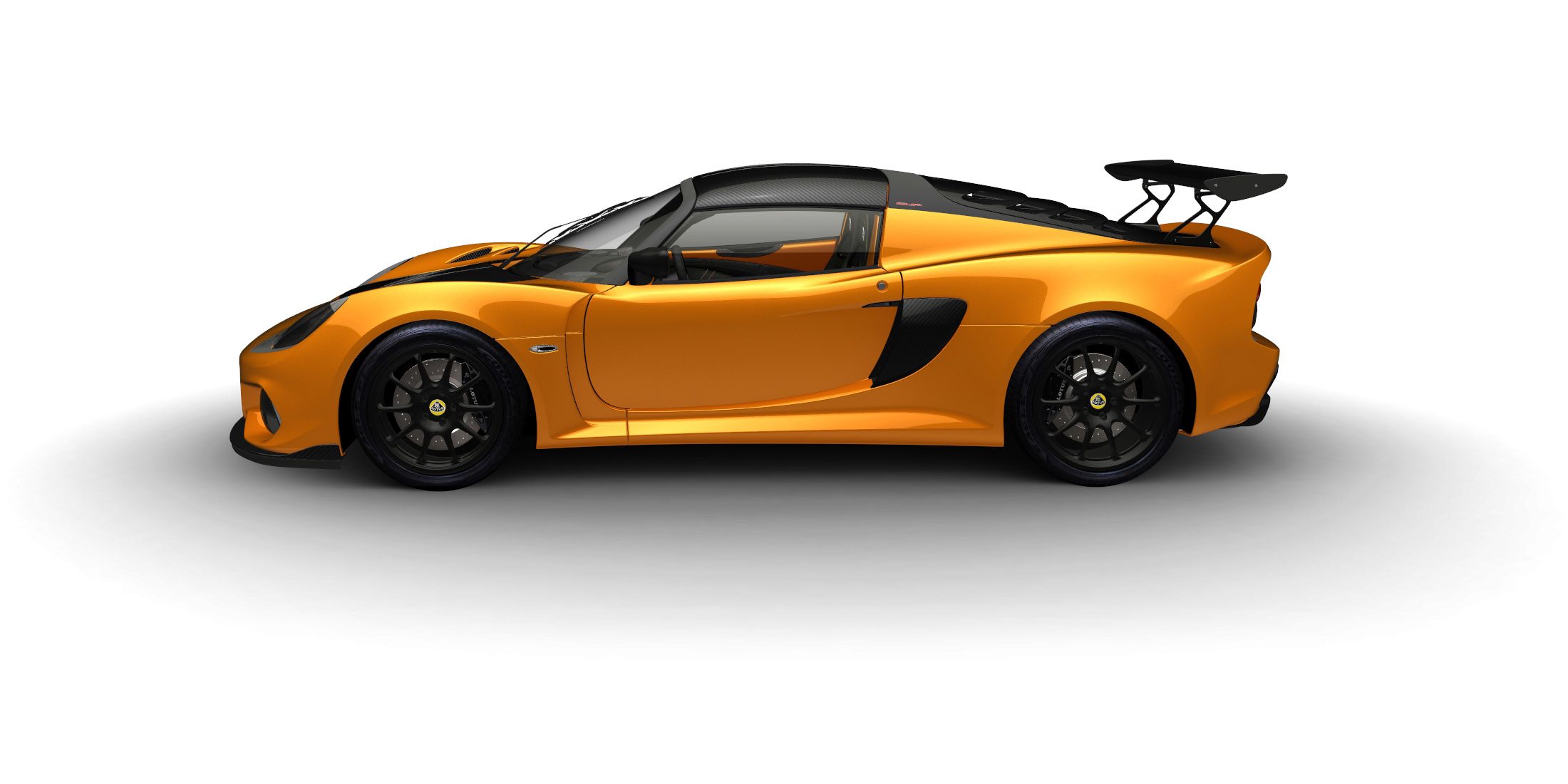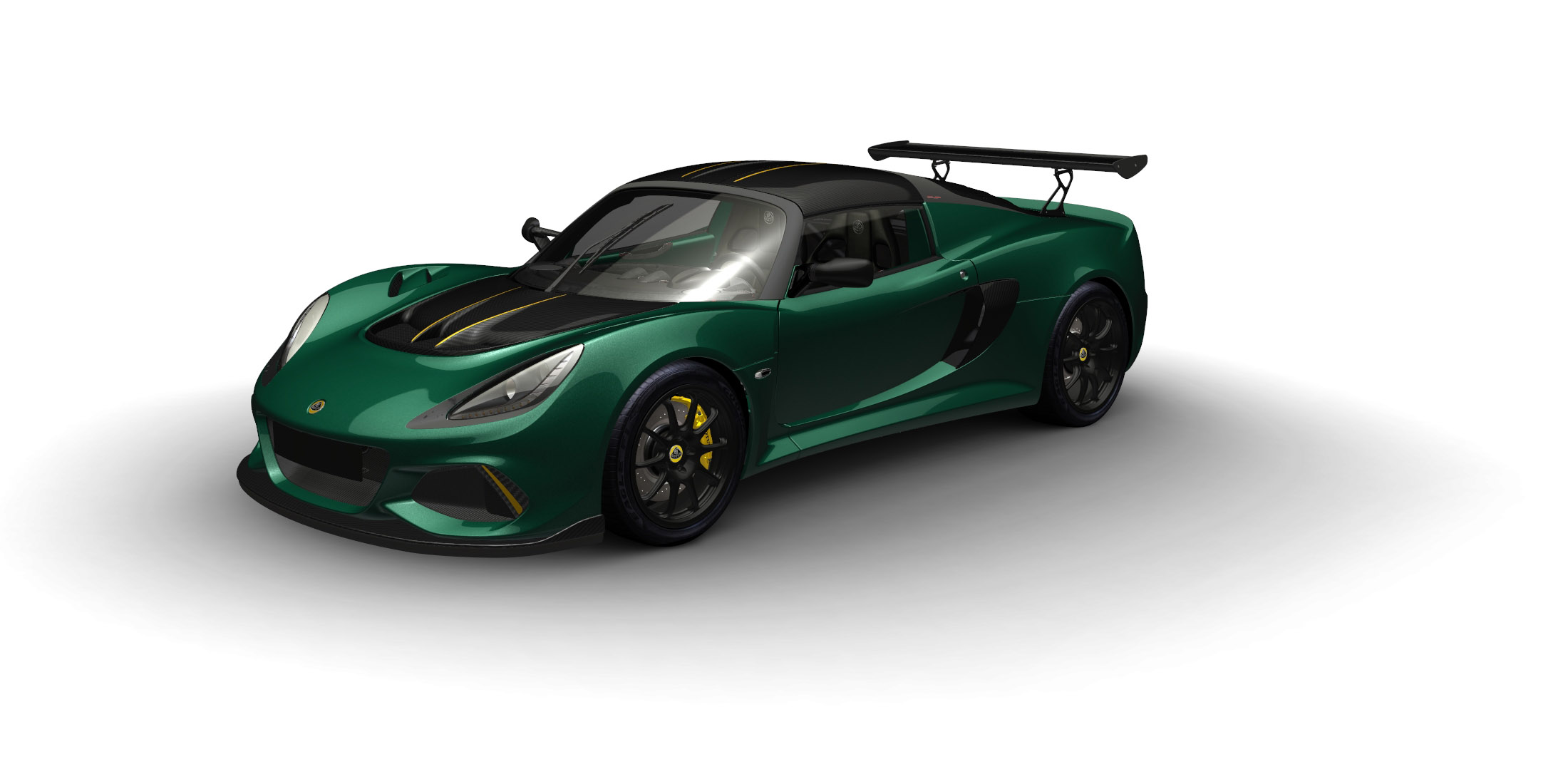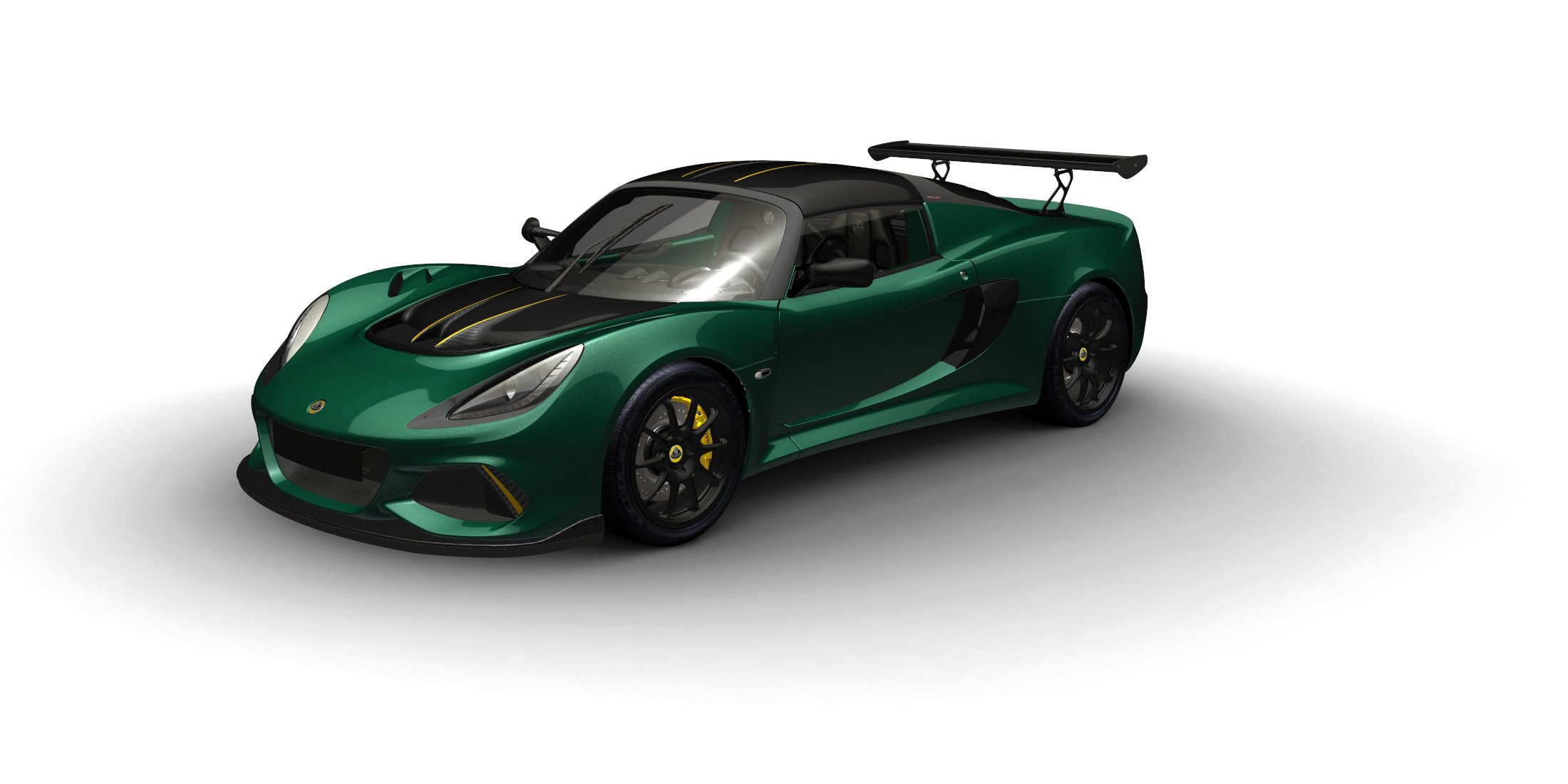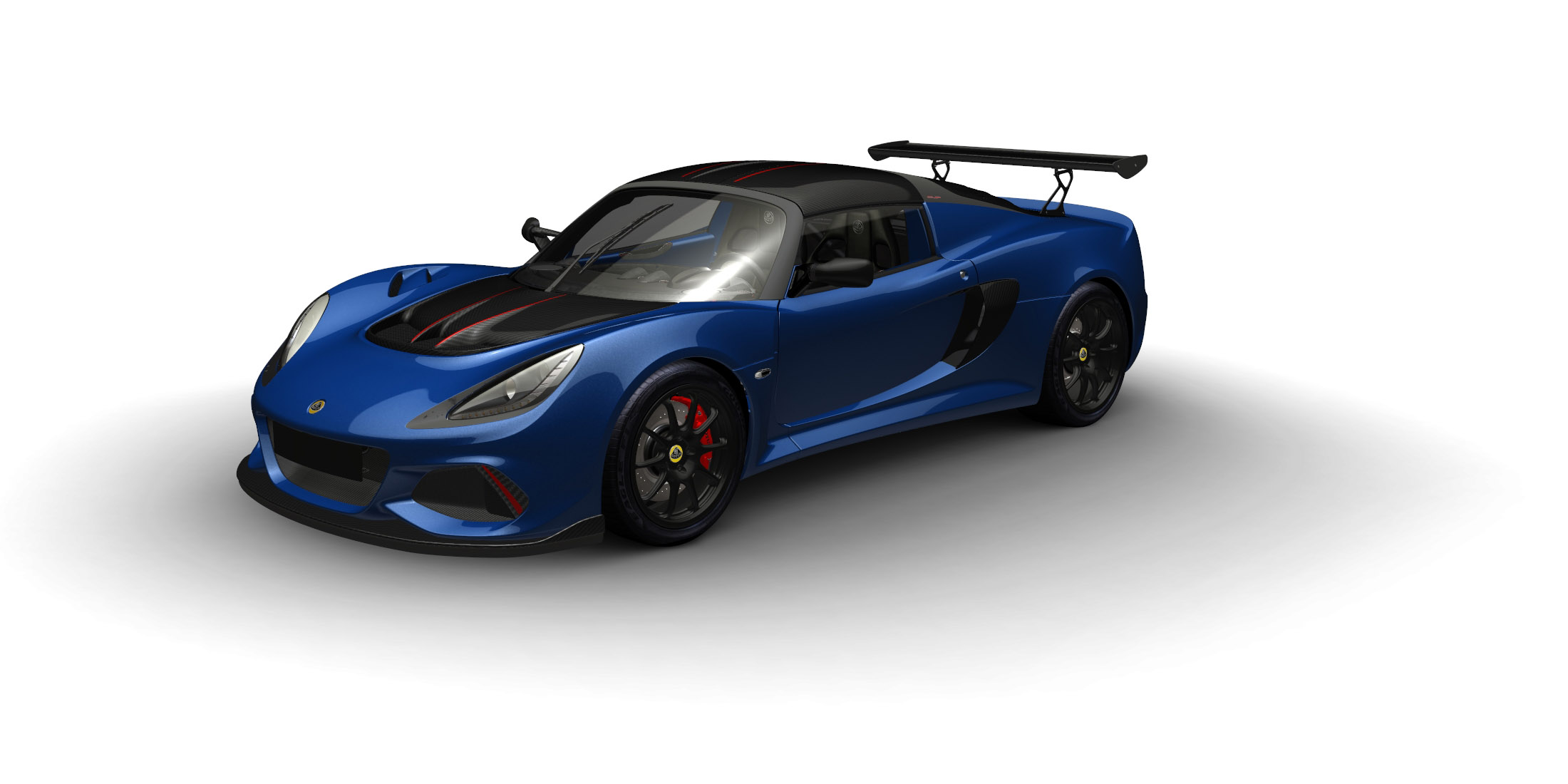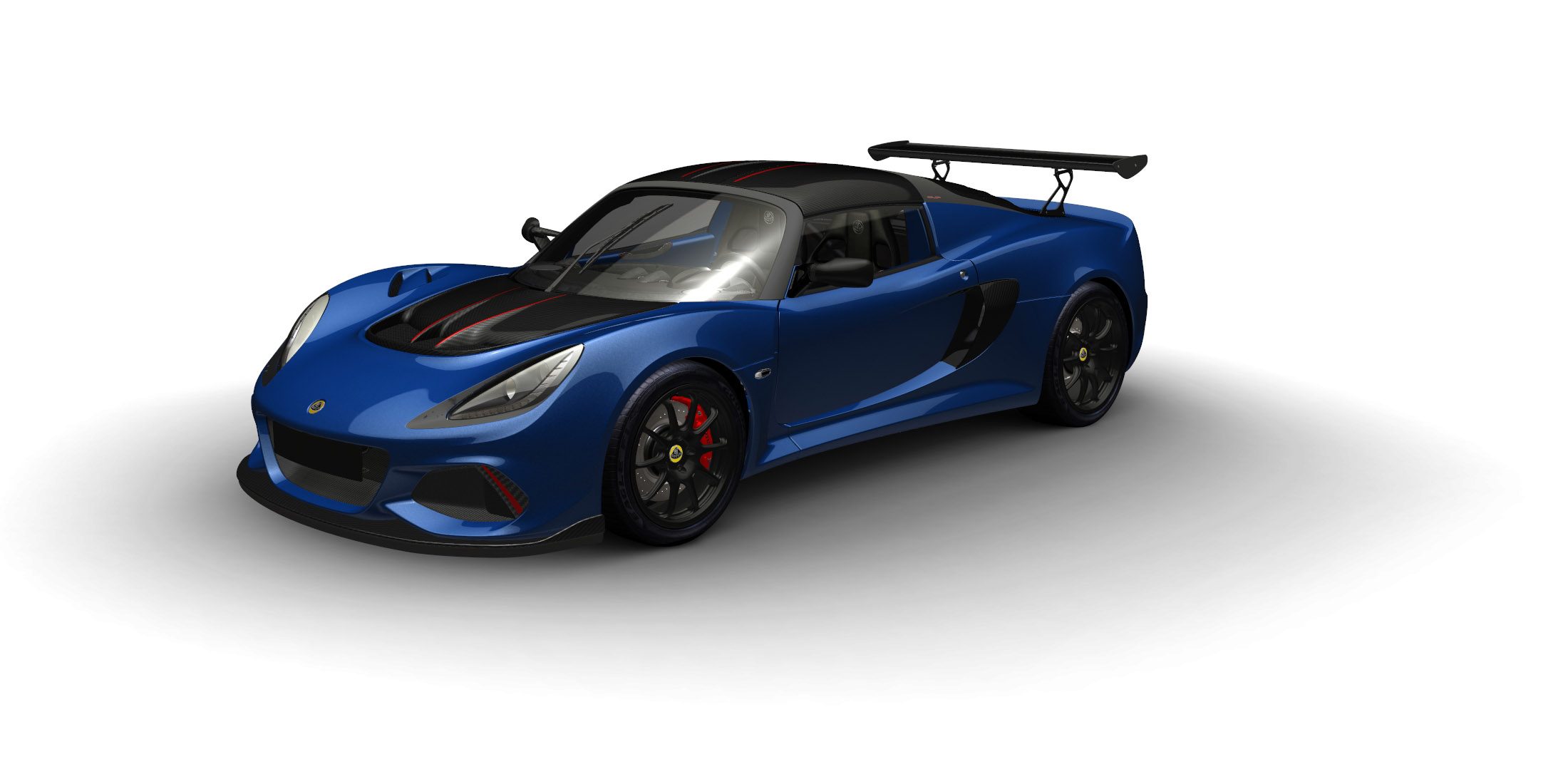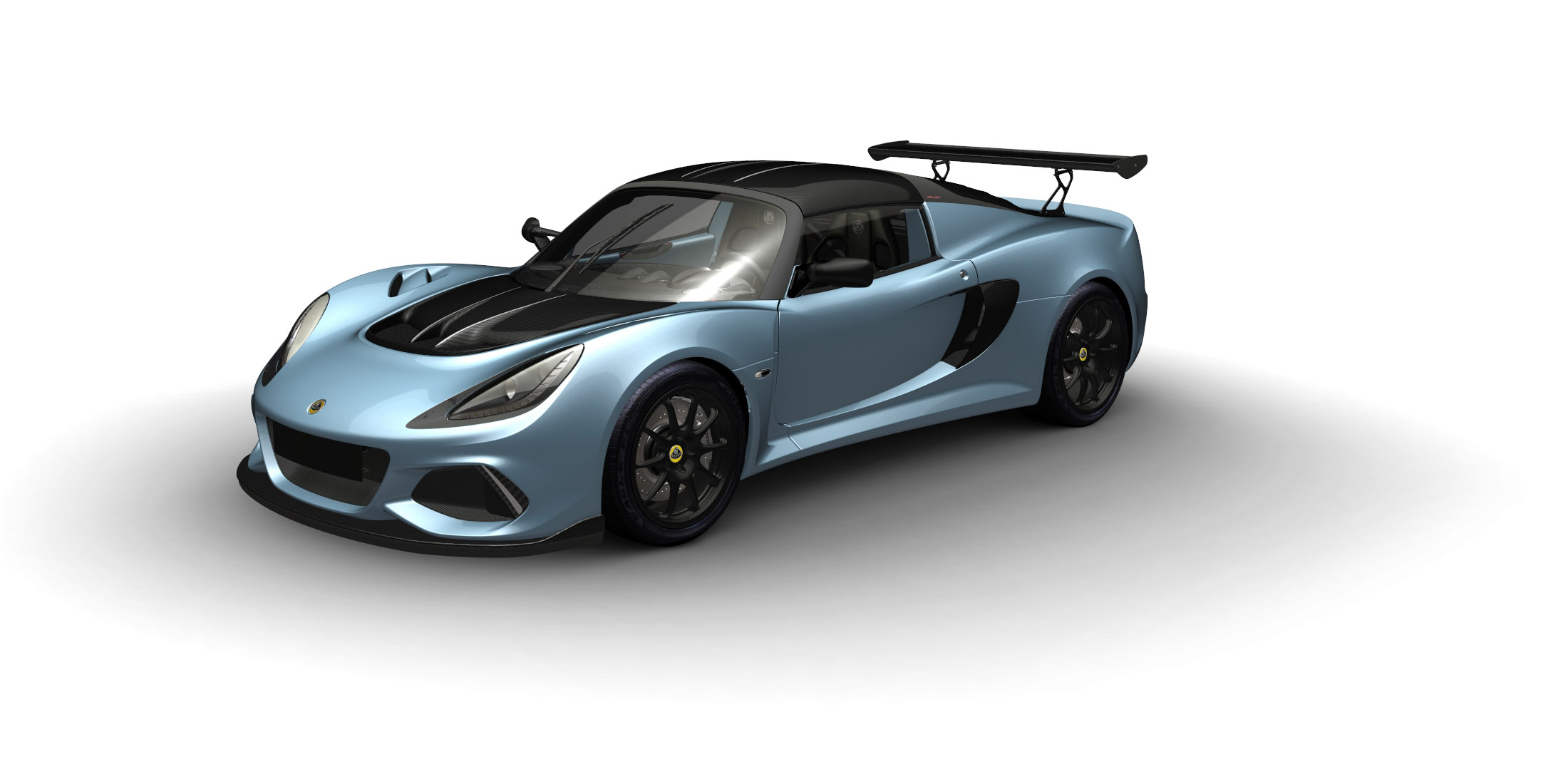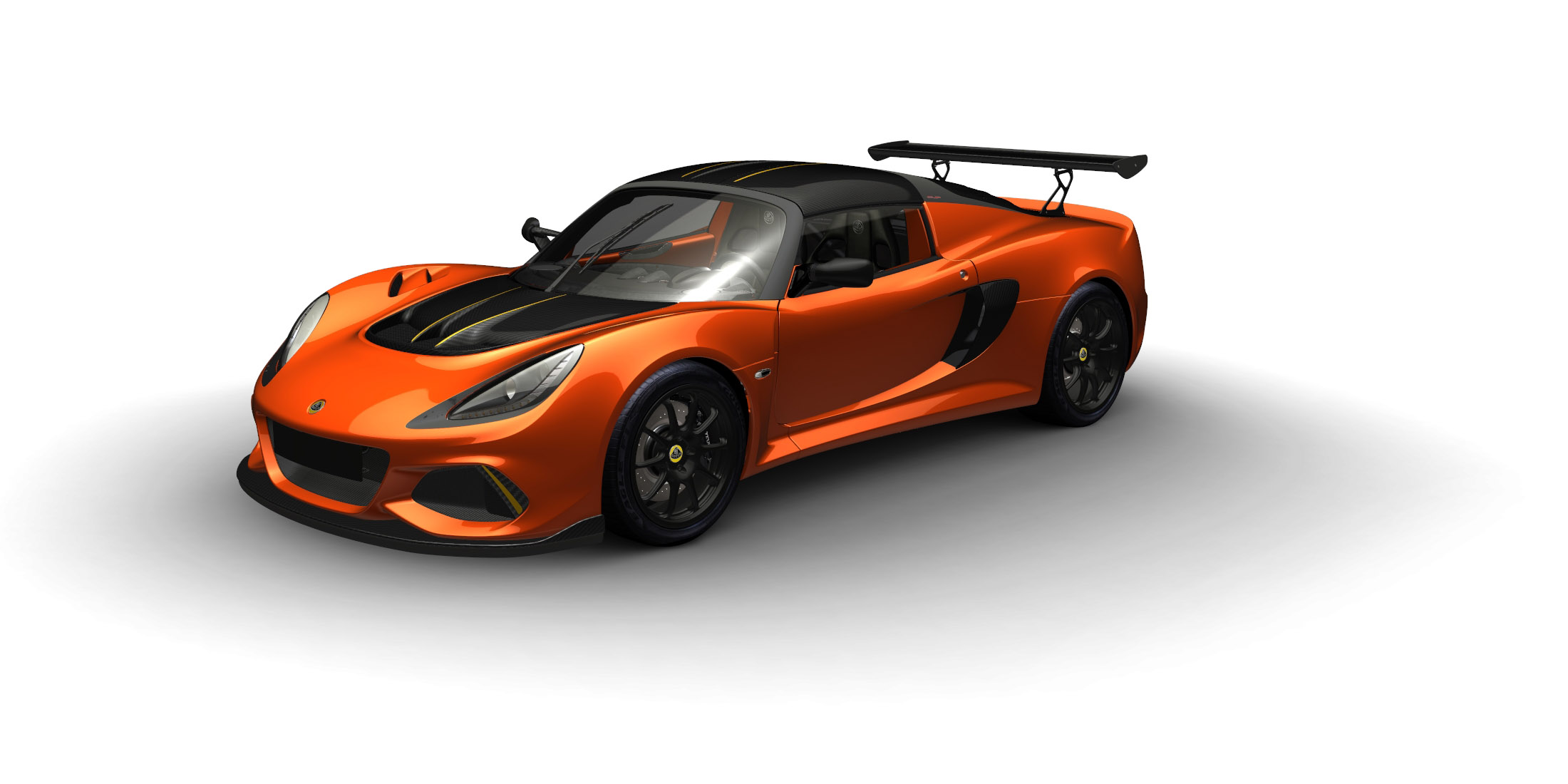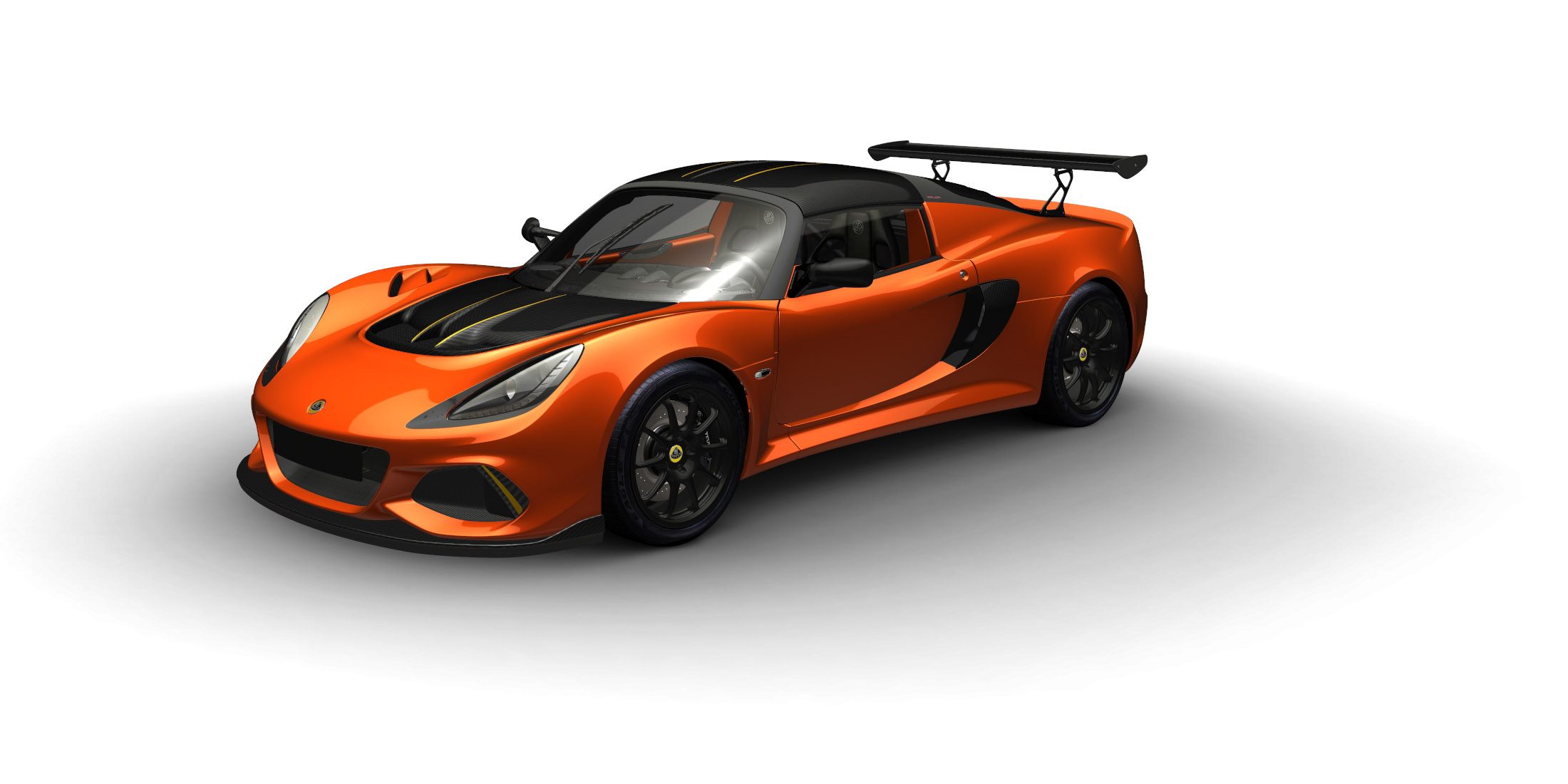 Metallic
Black

Dark Grey

Grey

Silver

White

Orange

Racing Green

Blue

Light Blue
Model shown: Exige Cup 430 with black 18" wheels.
Specifications
Engine
| | |
| --- | --- |
| Type | Supercharged V6, 24 valve, dual VVT-i, water-cooled |
| Displacement | 3456cc |
| Max. power | 430 bhp at 7000 rpm |
| Max. torque | 440 Nm at 2,600 rpm to 6,800 rpm |
| Power-to-weight ratio | 392 cv/1,000 kg |
Transmission
| | |
| --- | --- |
| Gearbox | Sports ratio 6-speed manual transmission |
| Differential | Electronic Lock |
Performance
| | |
| --- | --- |
| Top Speed | 280 km/h |
| Acceleration 0-100 km/h | 3.3 seconds |
| Power to weight ratio | 392 cv/1,000 kg |
Body & Chassis
| | |
| --- | --- |
| Chassis | Lightweight aluminium extruded and bonded |
| Body | Lightweight composite |
| Suspension | Eibach coaxial coil springs, front and rear |
| | Nitron 3-way adjustable dampers |
Steering & Brakes
| | |
| --- | --- |
| Steering System | Unassisted rack and pinion steering with 2.86 turns lock-to-lock |
| Brake System | AP Racing four-piston calipers |
| Brake Callipers | Red painted |
| Performance Aids | Hydraulic Brake Assist [HBA] |
| | Electronic Brake Distribution [EBD] |
| | Cornering Brake Control [CBC] |
| | Driver selectable ESP modes - Drive/Sport/Race |
Wheels
| | |
| --- | --- |
| Wheels | Gloss black forged alloy wheels [17" front and 18" rear] |
| Tyres - front | Michelin Pilot Sport Cup 2 215/45 R17 |
| Tyres - rear | Michelin Pilot Sport Cup 2 285/30 R18 |
Dimensions
| | |
| --- | --- |
| Length | 4,084 mm |
| Width | 1,802 mm |
| Height | 1,129 mm |
| Fuel Tank Capacity | 48 litres |
CO2 emissions as appear on this vehicle's certificate of conformity, determined in accordance with EU testing procedures and provided for comparison purposes. Actual performance will depend on an individual's driving style, driving conditions and other non-technical factors.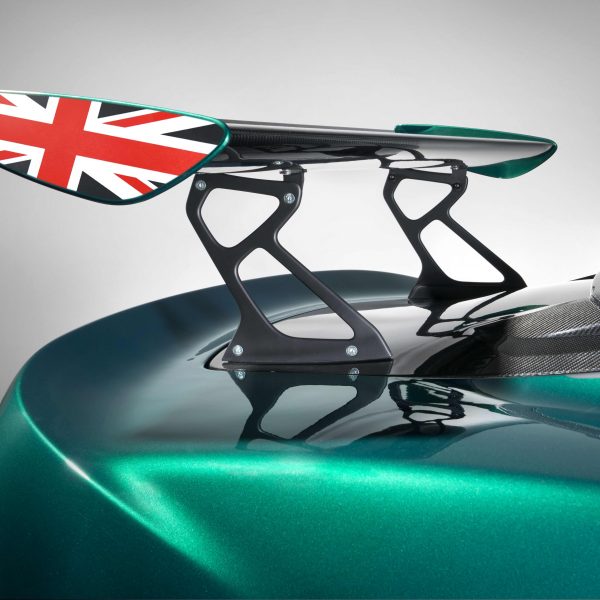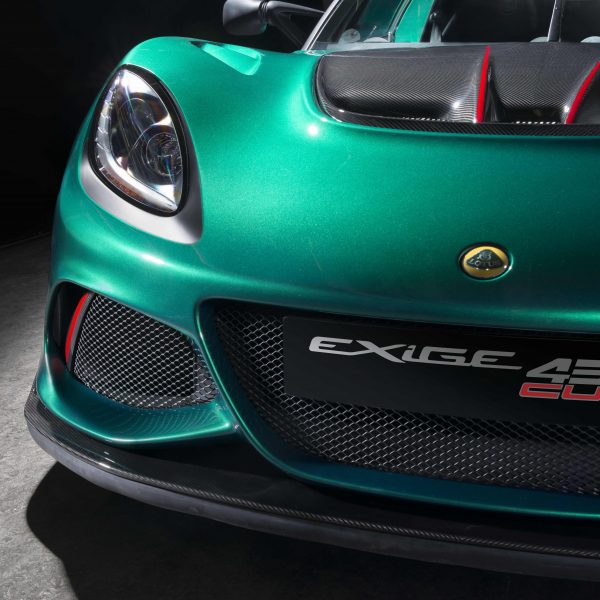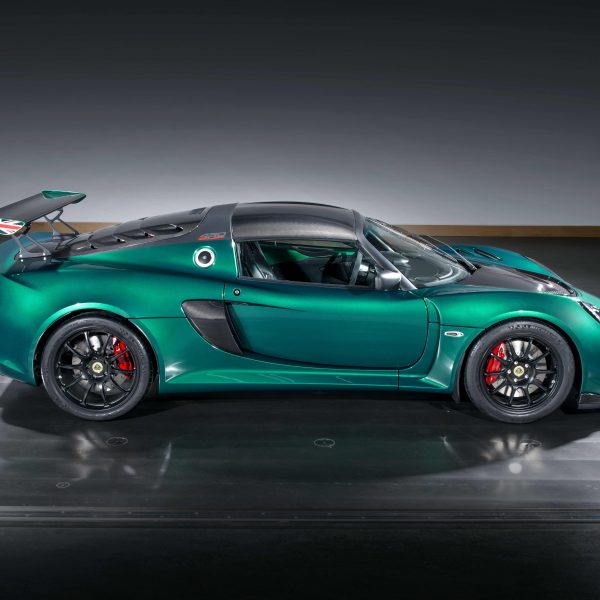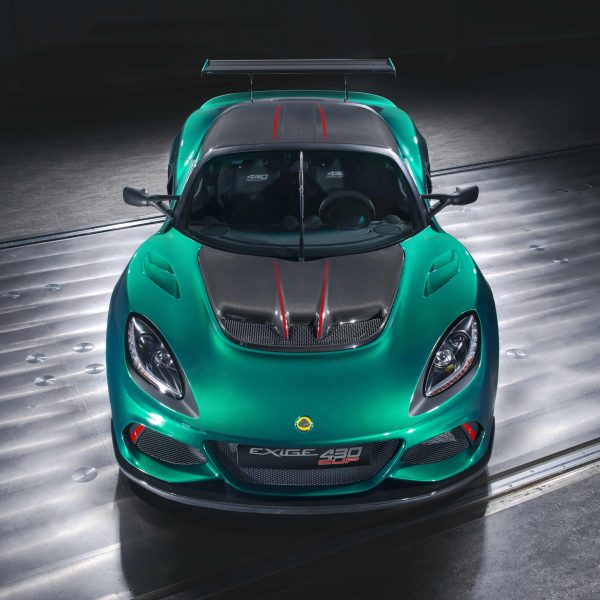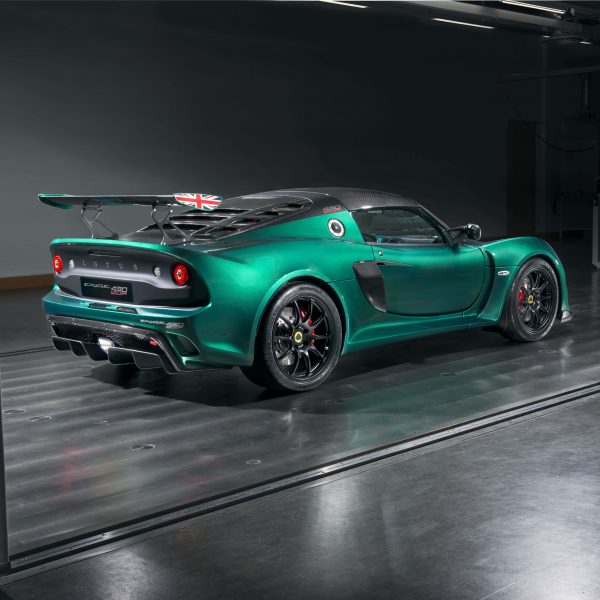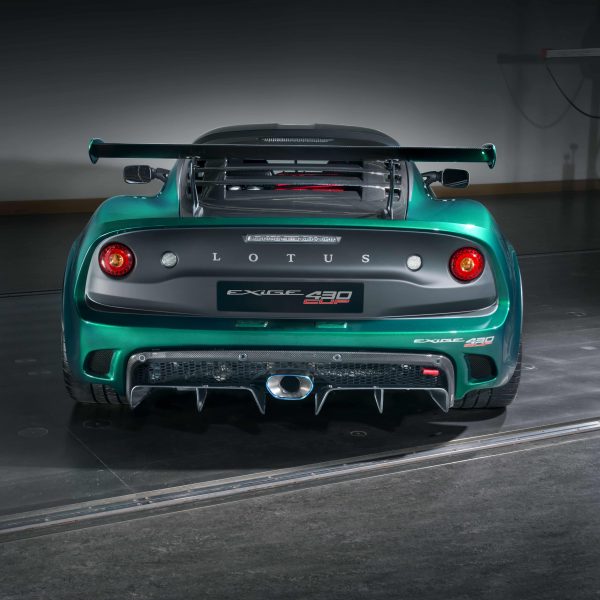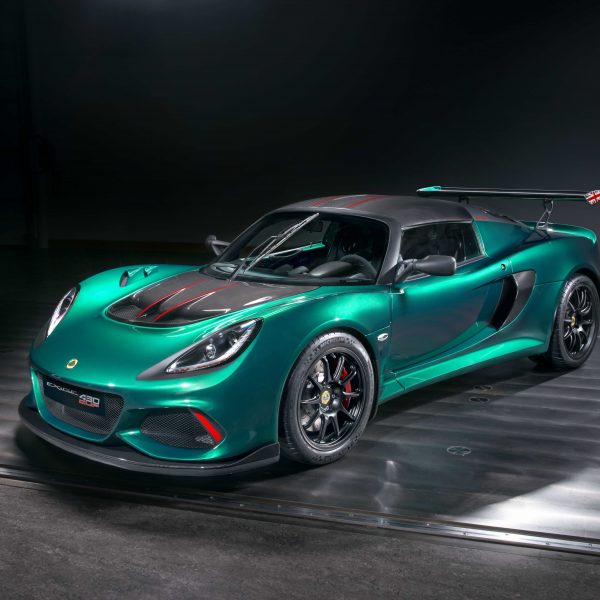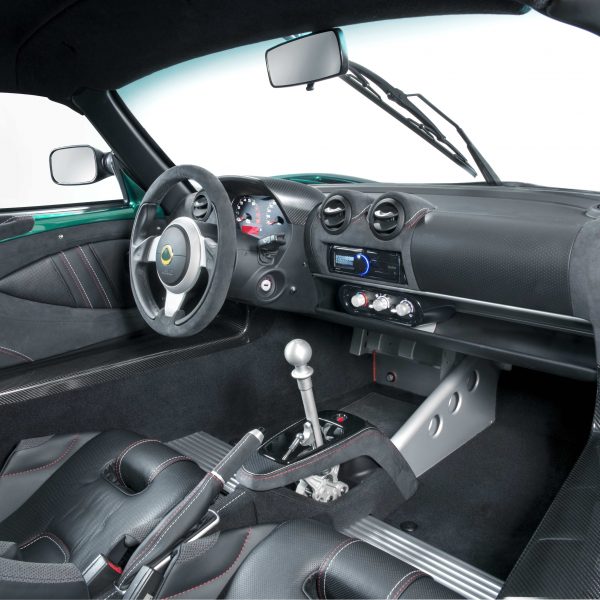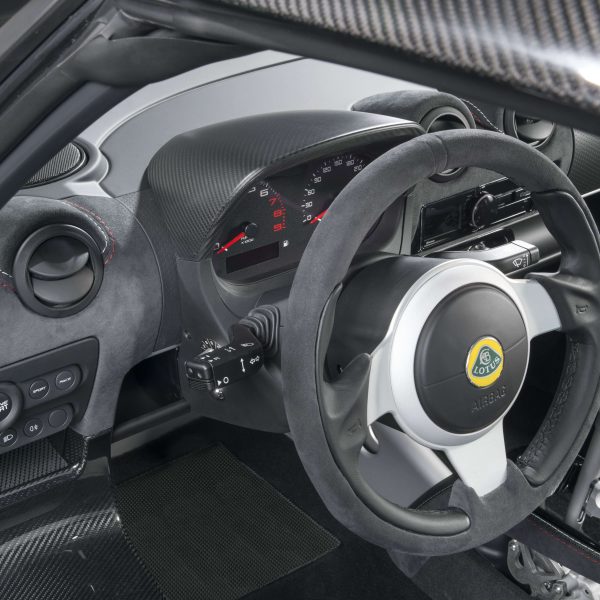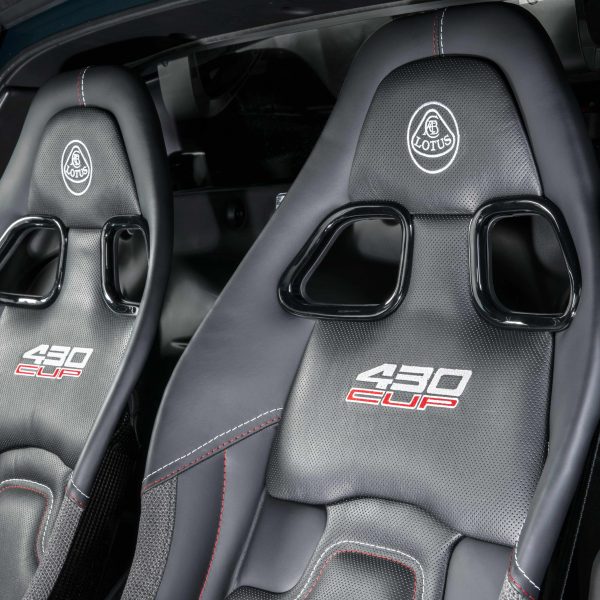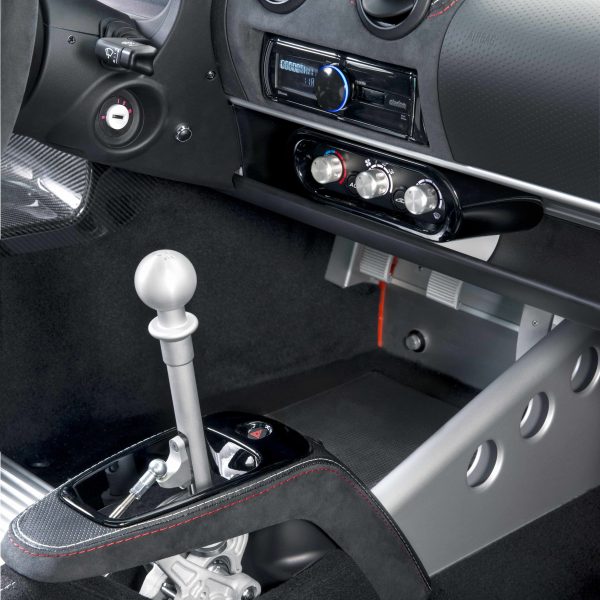 Lotus Exclusive
Lotus Exclusive allows you to make your Lotus truly unique, with each vehicle carefully finished according to your individual requirements.
The hand-crafted nature of our vehicles allows us to produce personalised cars using high-quality material interiors alongside unique paint finishes and vehicle graphics. We pay meticulous attention to every last detail in order make each Lotus Exclusive model perfectly tailored to your personality and lifestyle.
The Lotus Exclusive offering includes body colours, body work and interior trim.