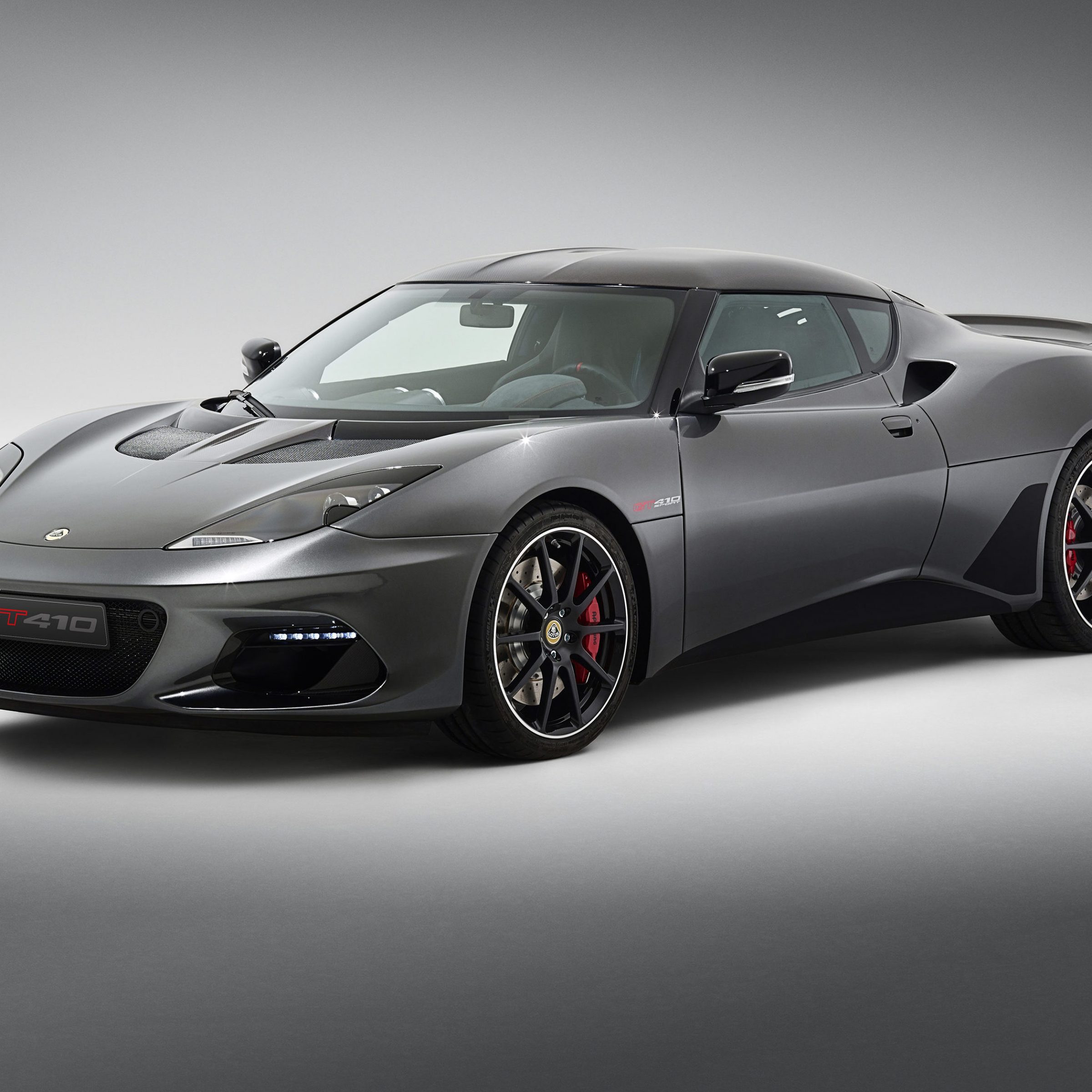 Uniquely brilliant
The stunning new GT410 Sport takes the Evora's unique attributes to spectacular new heights. Sports car agility, precision and response meets GT car refinement and comfort like never before.
First and foremost a pure driver's car for the road, the Evora GT410 Sport proves that the value of motorsport engineering extends far beyond the race track. Its functional aerodynamics, bonded aluminium chassis, Bilstein dampers, Eibach springs, forged aluminium wishbones and AP Racing brakes are all motorsport grade, intelligently applied for road use. As a result, focused driving is effortless with precise, intuitive steering allied to huge reserves of mechanical grip, agility and poise. As the twisting tarmac disappears beneath you, the Evora flows, settling into a rhythm, smoothing out rough surfaces, breathing with the road for an enthralling, immersive driving experience.
Handling masterclass
Whatever the road throws at you, whether it's a sweeping curve, challenging hairpin or undulating straight, the Evora GT410 Sport demonstrates complete mastery over them all. An elegant, low-drag, fastback design combines fluid lines and a swept-forward cabin with an athletic stance and distinctive presence. The meticulously weighted, hydraulic power steering remains an industry benchmark. A tactile delight, it displays total fluency on the road, transmitting authentic feedback directly to the driver while filtering out unwanted noise, keeping you uniquely connected to the road.
Versatility
Available as both a 2+0 or 2+2, with a choice of 6-speed manual or paddleshift automatic transmissions, a wide range of options allows you to specify your car for enhanced GT comfort or greater track focus. The race suspension package uses Lotus-tuned lightweight Öhlins TTX two-way adjustable dampers. Saving 13kg, they transform the car for hard track use. Immense stopping power comes courtesy of AP Racing four-piston calipers front and rear, with lightweight 2-piece cross-drilled and ventilated brake discs (front 370mm, rear 350mm).
The cabin includes Sparco sport seats and carbon door sill inserts with DAB radio fitted as standard. The steering wheel, dashboard, door panels, transmission tunnel, centre console and instrument binnacle are all trimmed in black Alcantara®, complemented by contrast twin colour stitching. Both 2+0 and 2+2 configurations are available, with the latter requiring either the optional wider 10.5J rear wheel option, or the lightweight, forged 9.5J wheel option from the Evora 400. An integrated 7" touch-screen infotainment system with AppleCarPlay and Android Auto, Bluetooth® functionality, satellite navigation and reversing camera come as standard.
Aerodynamic efficiency
The Evora GT410 Sport's rakish lines and advanced aerodynamics create a distinctive, dramatic presence on the road. The revised front bumper features integrated air blades to move air around the front wheels, decreasing turbulence and reducing drag. Sculpted carbon fibre ducts behind each rear wheel vent high pressure air from the wheel arches, balancing downforce across the whole car. This adds up to 96kg of downforce at 186mph, a massive three-times that of the Evora 400, with an improved overall drag coefficient. As a result, the Evora GT410 Sport the most aerodynamically efficient Lotus road car of all. Featuring exquisite quality carbon fibre panels as standard, including the front access panel and a one-piece louvered tailgate with integrated spoiler, the flagship Lotus is now faster, sharper and more appealing than ever.
Colour Options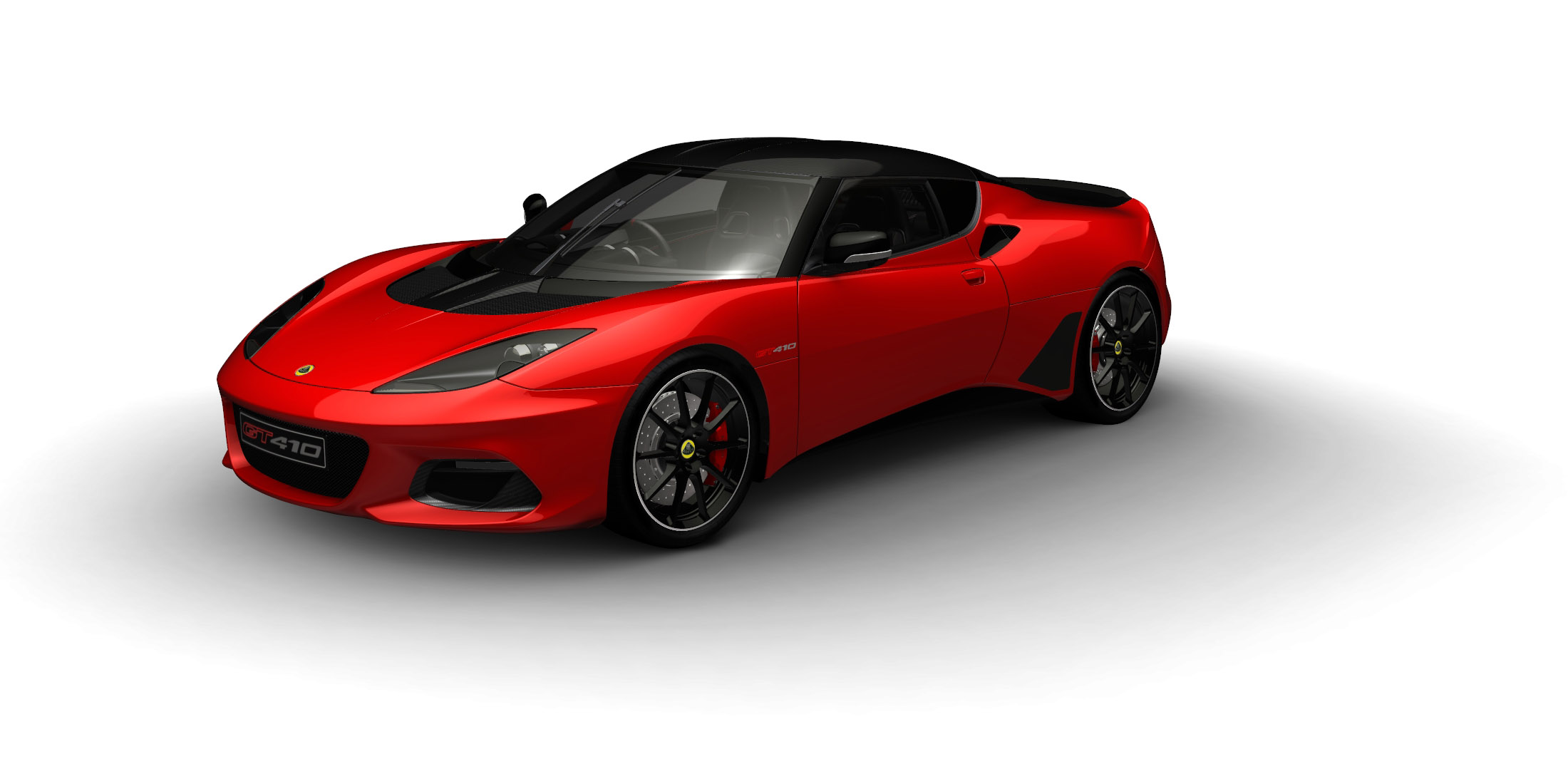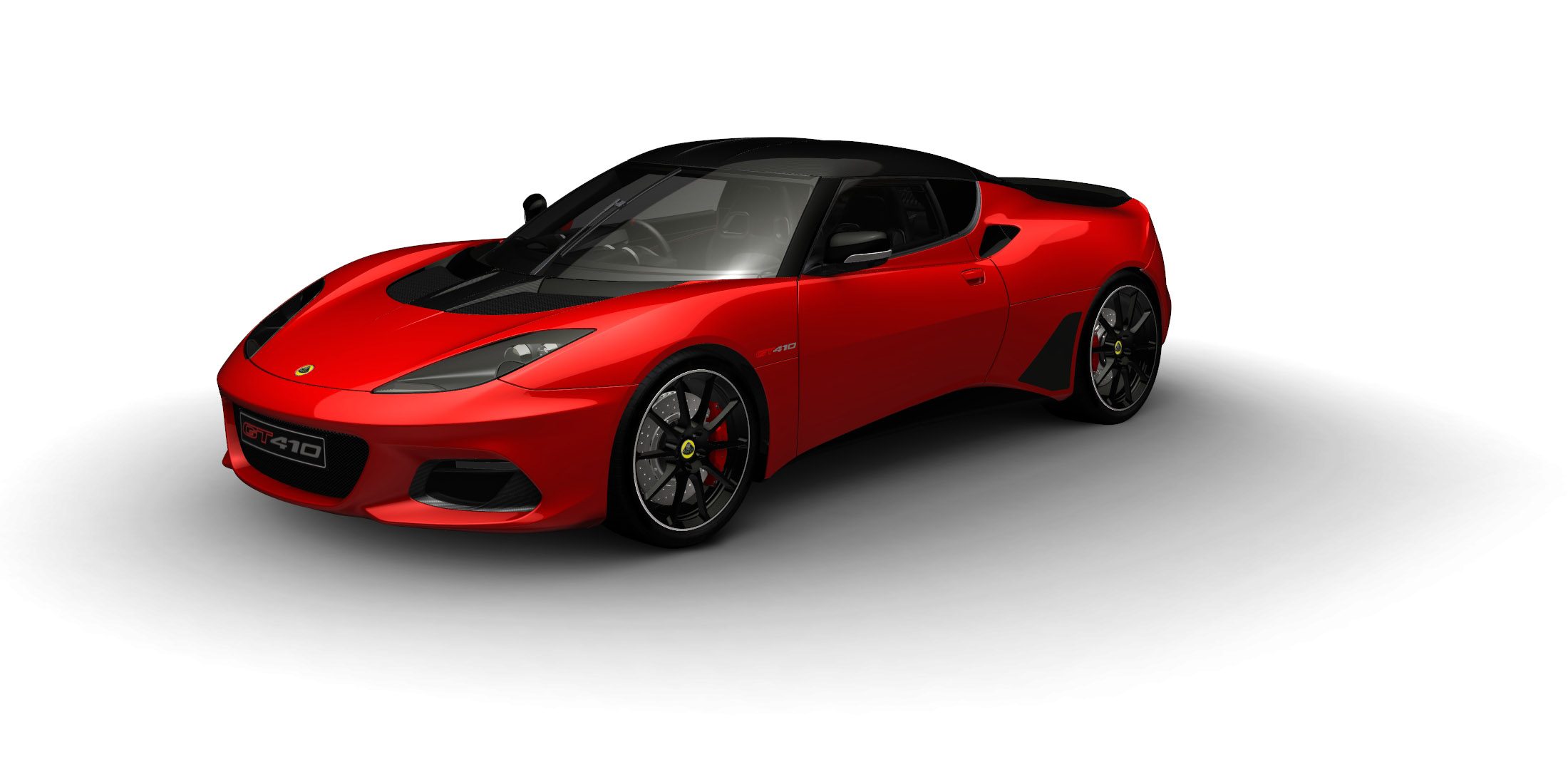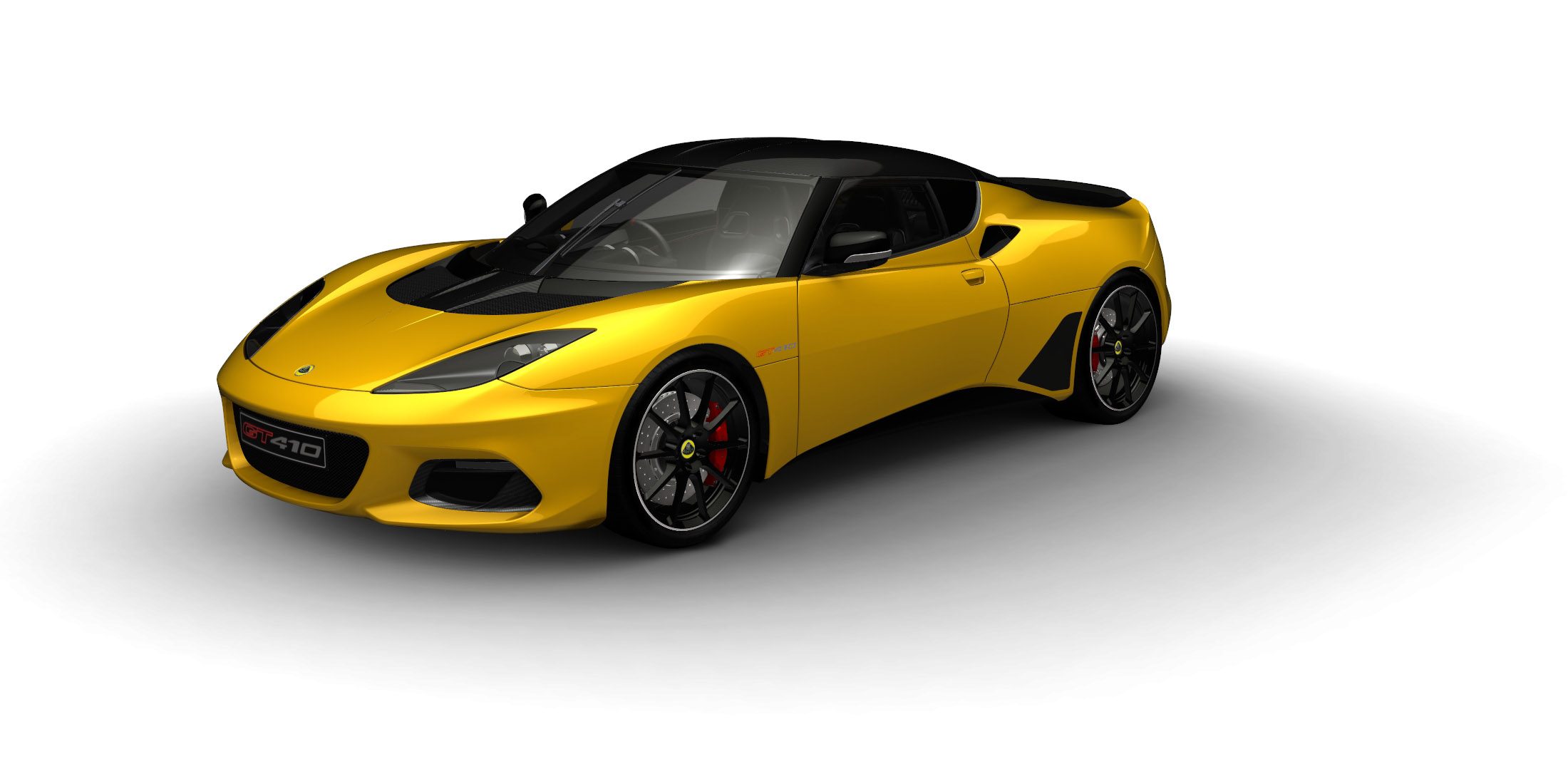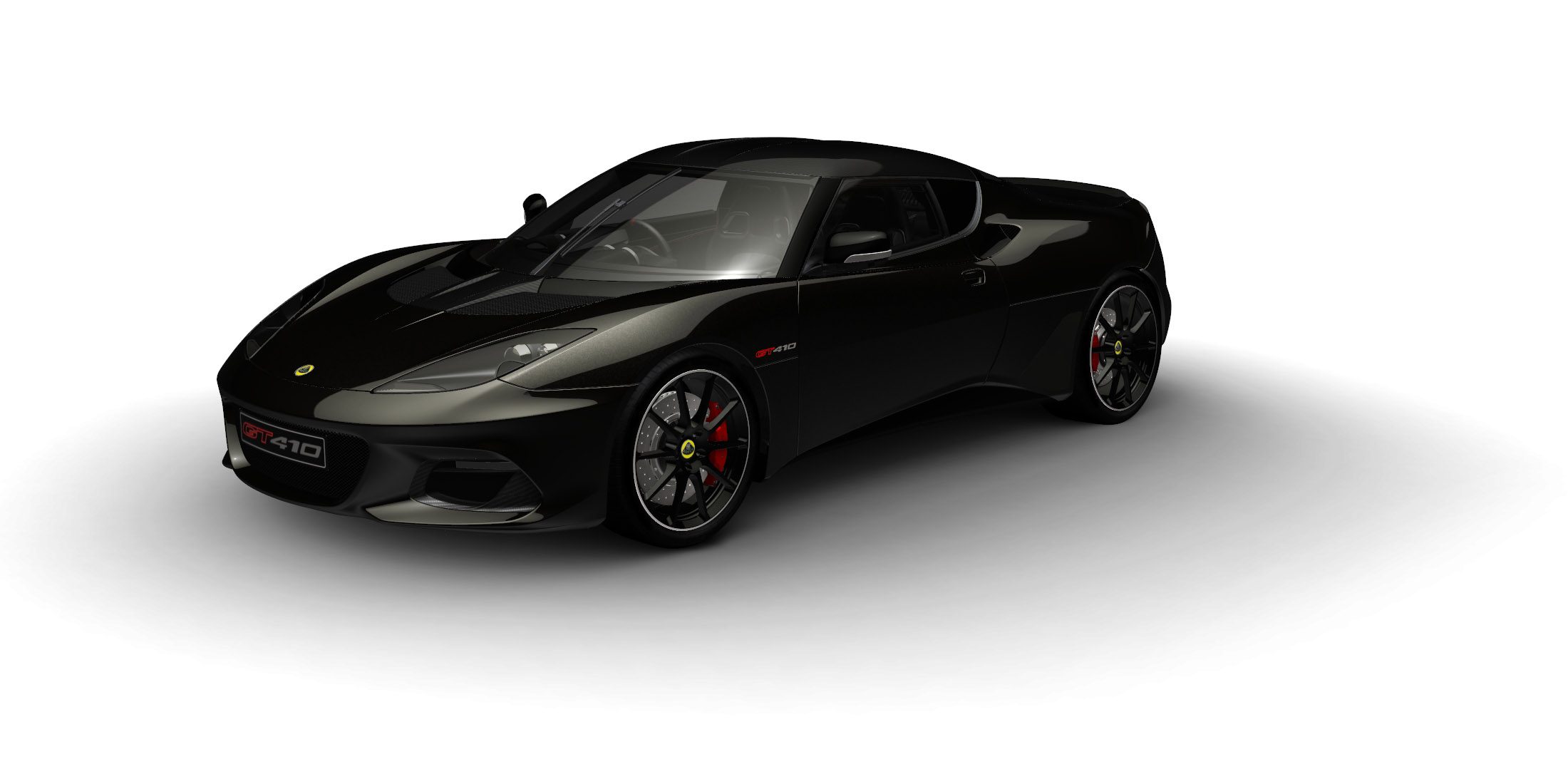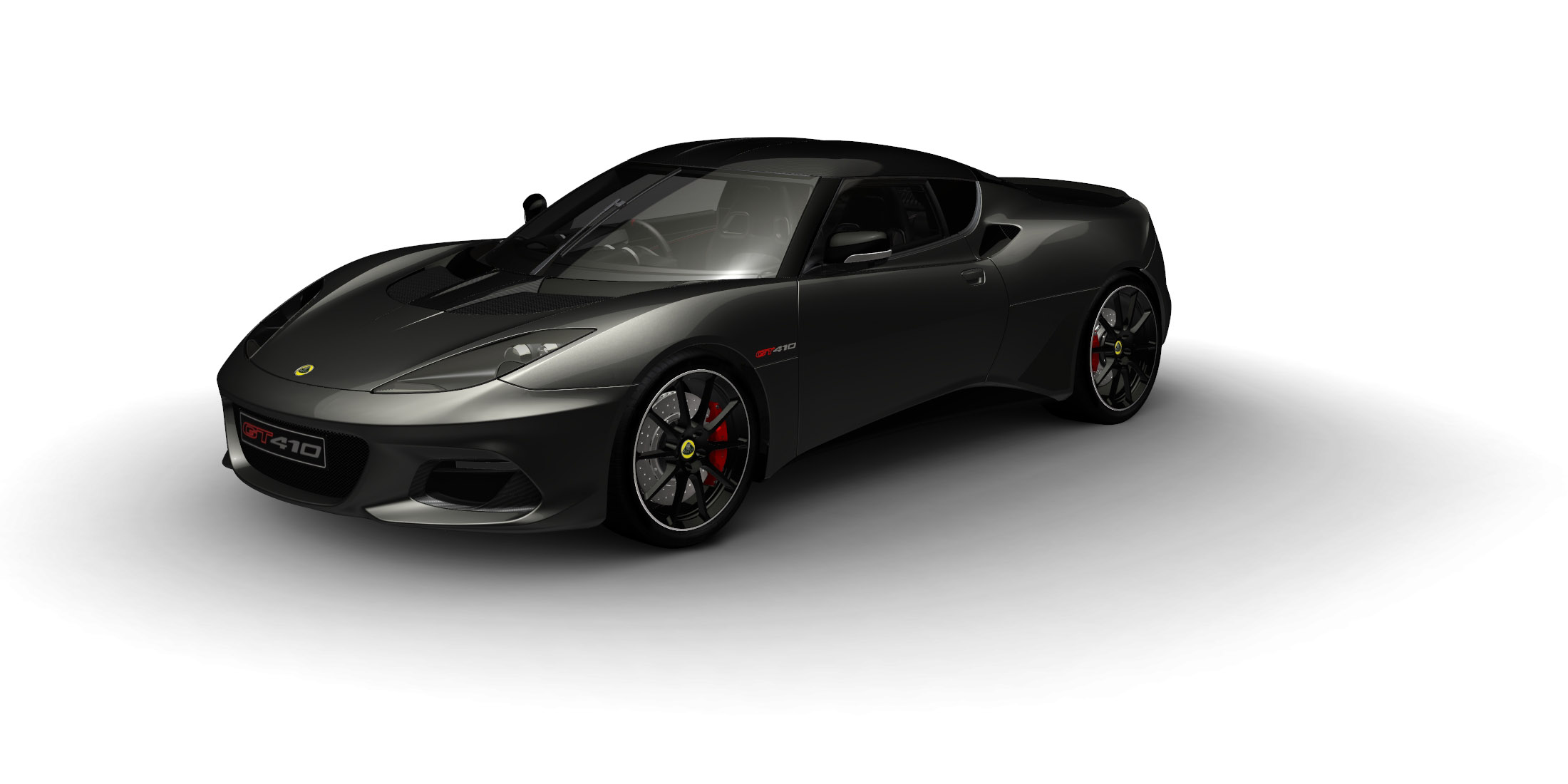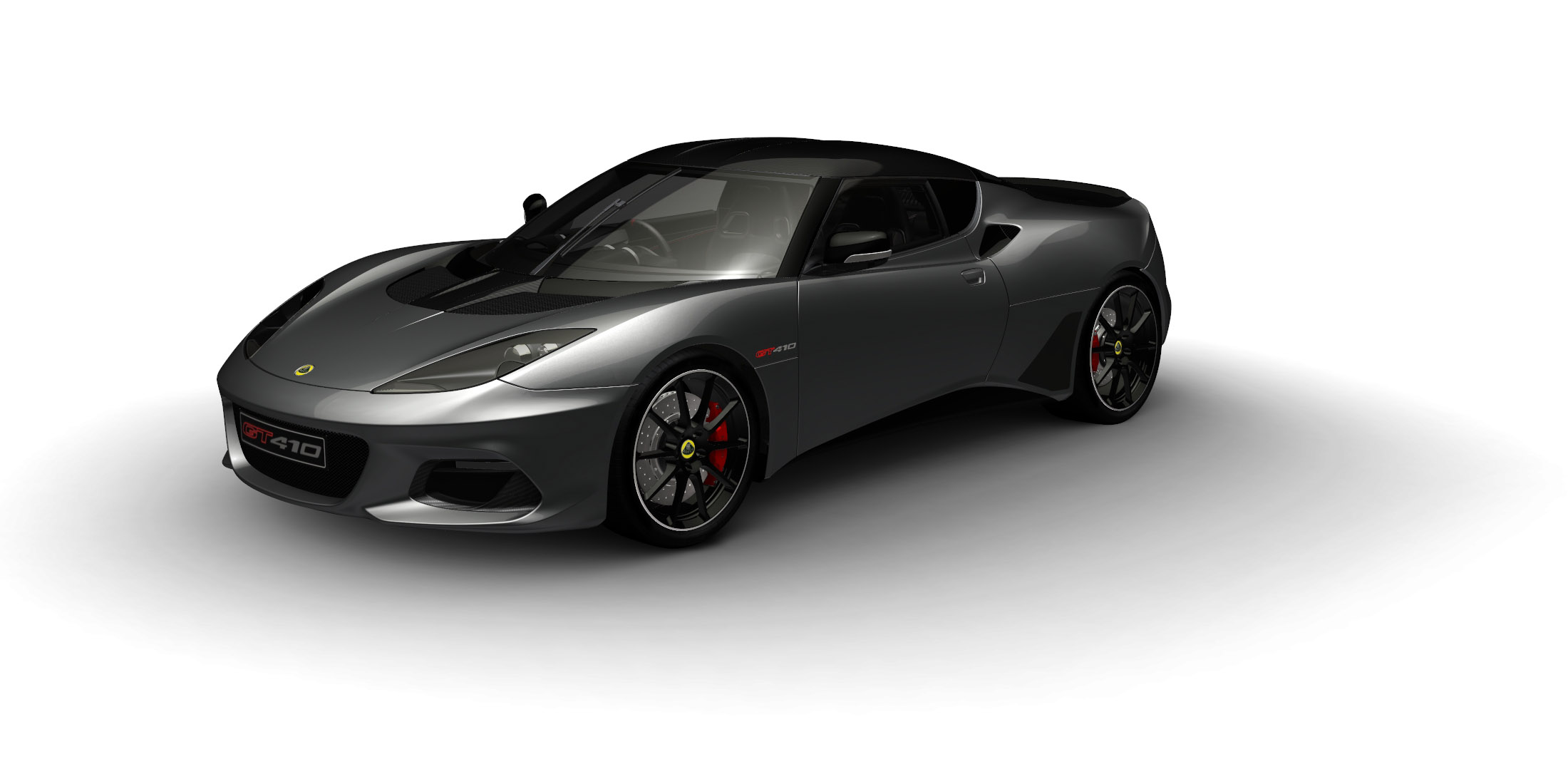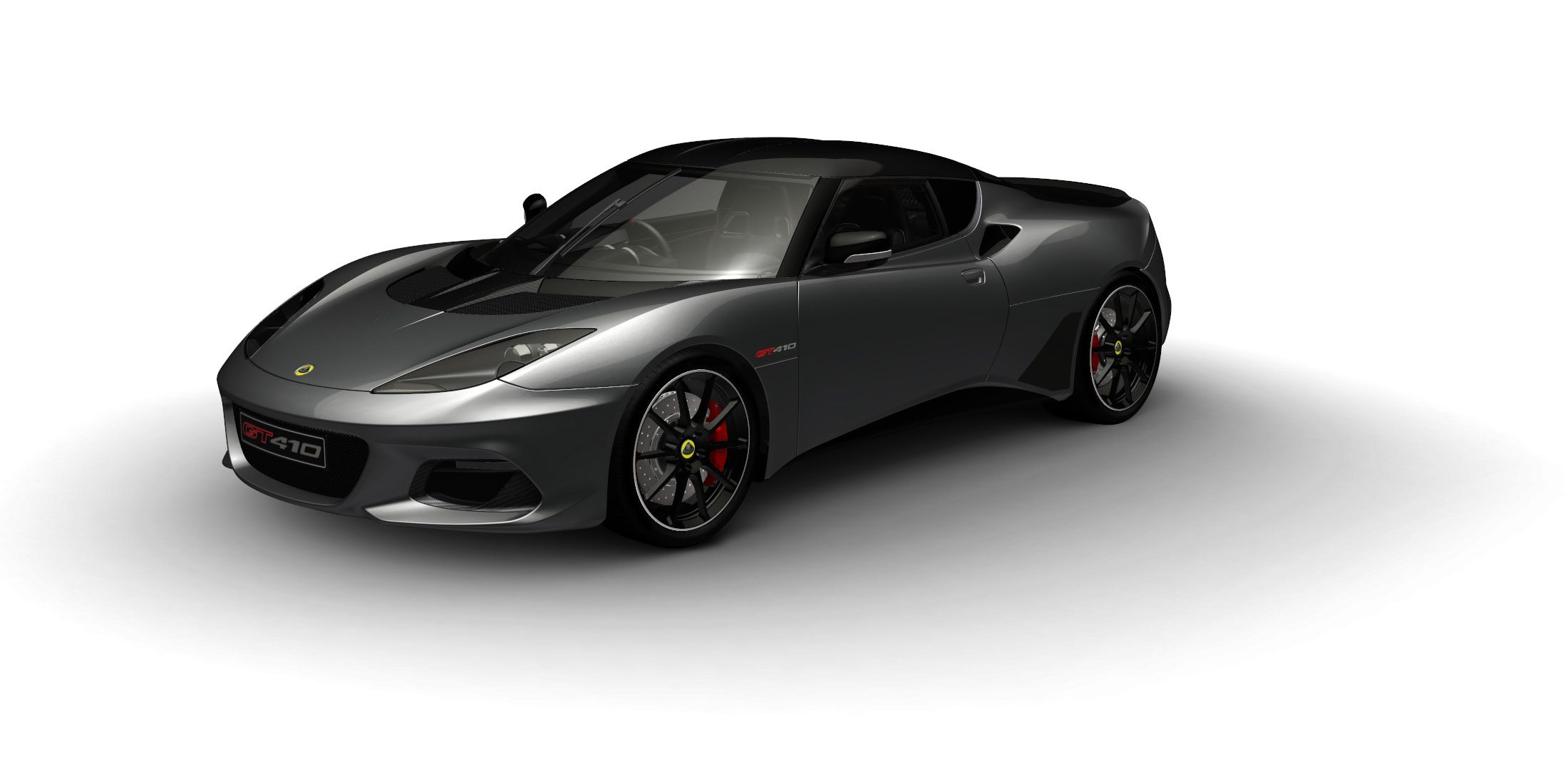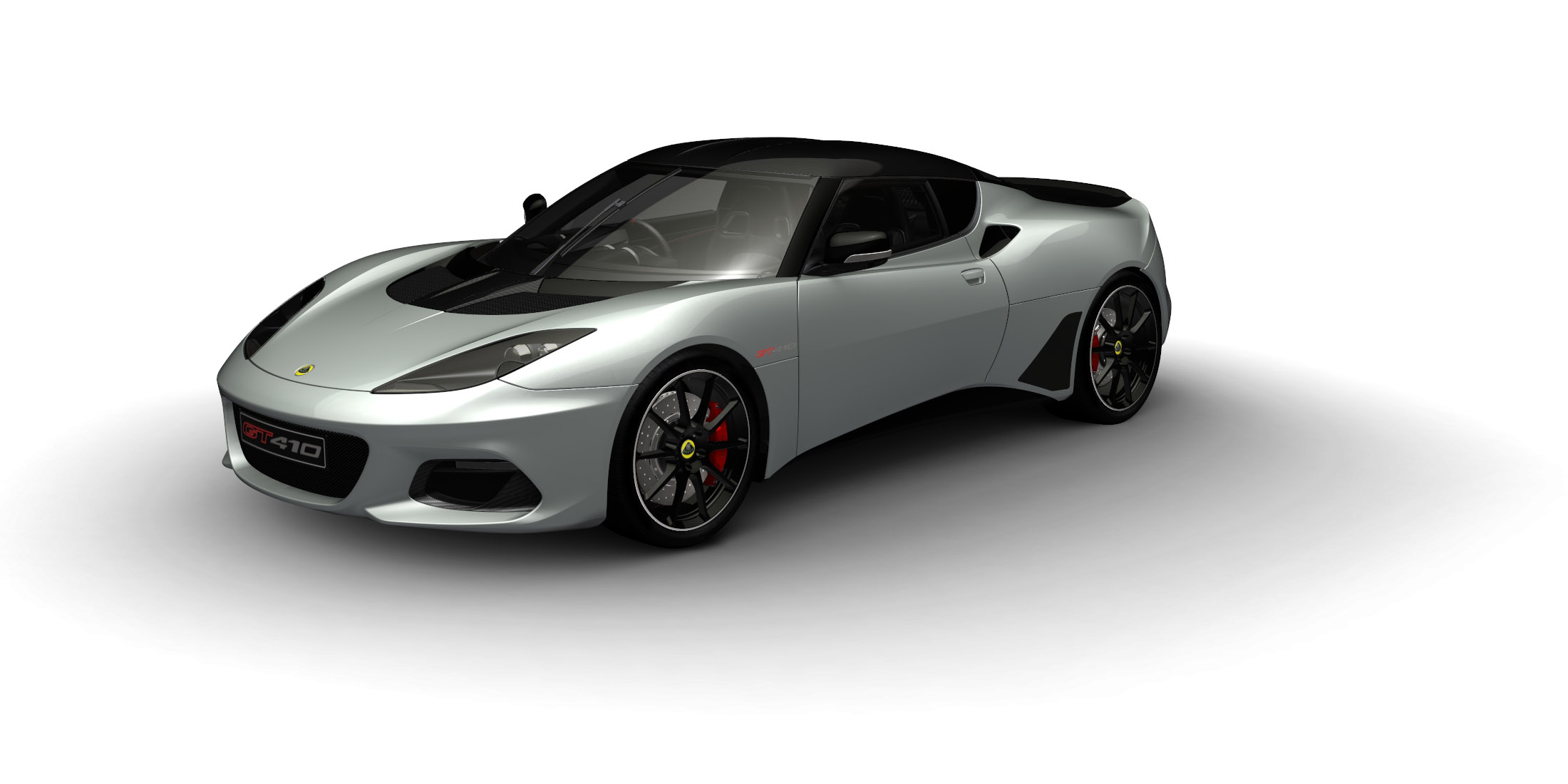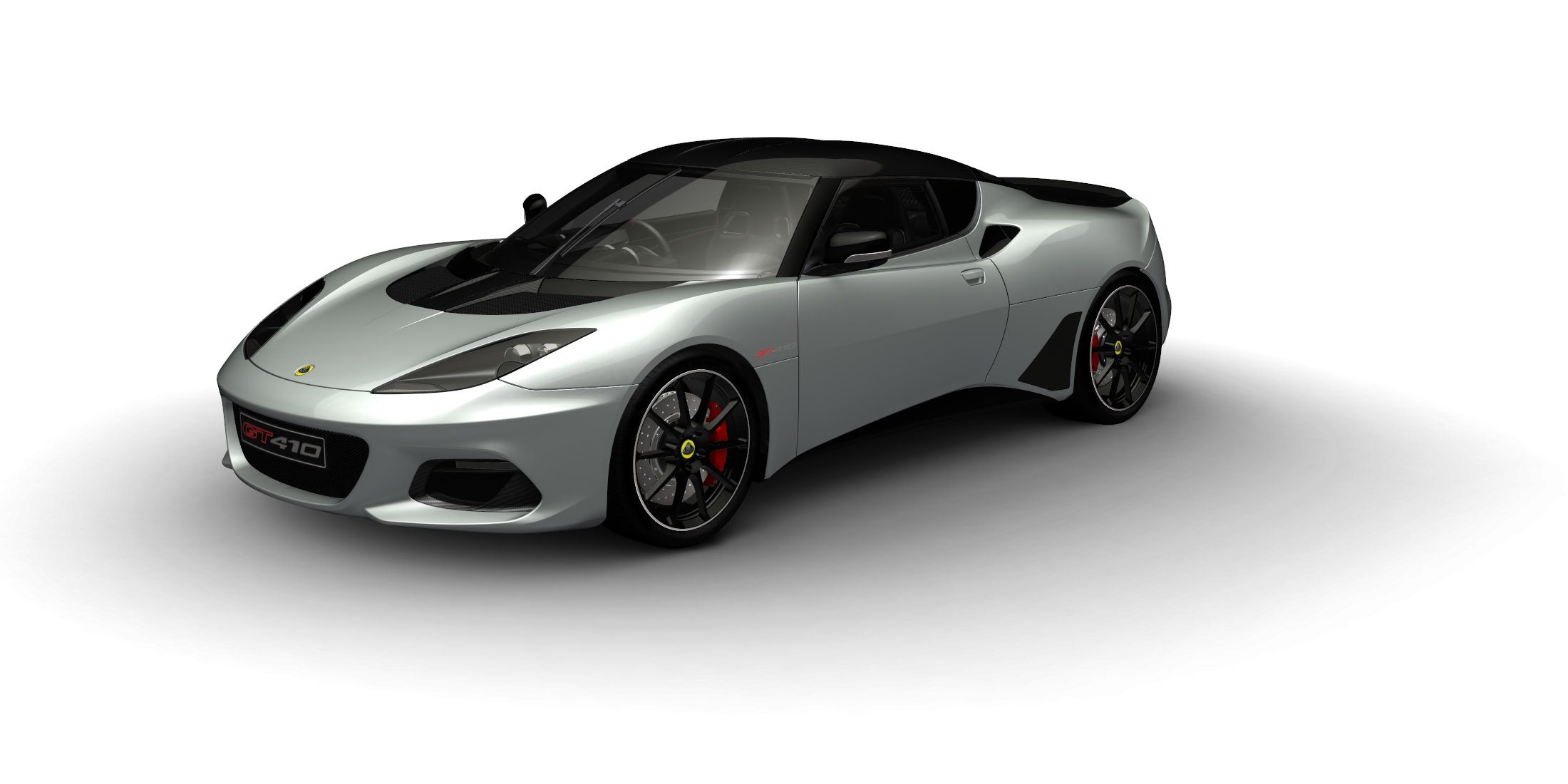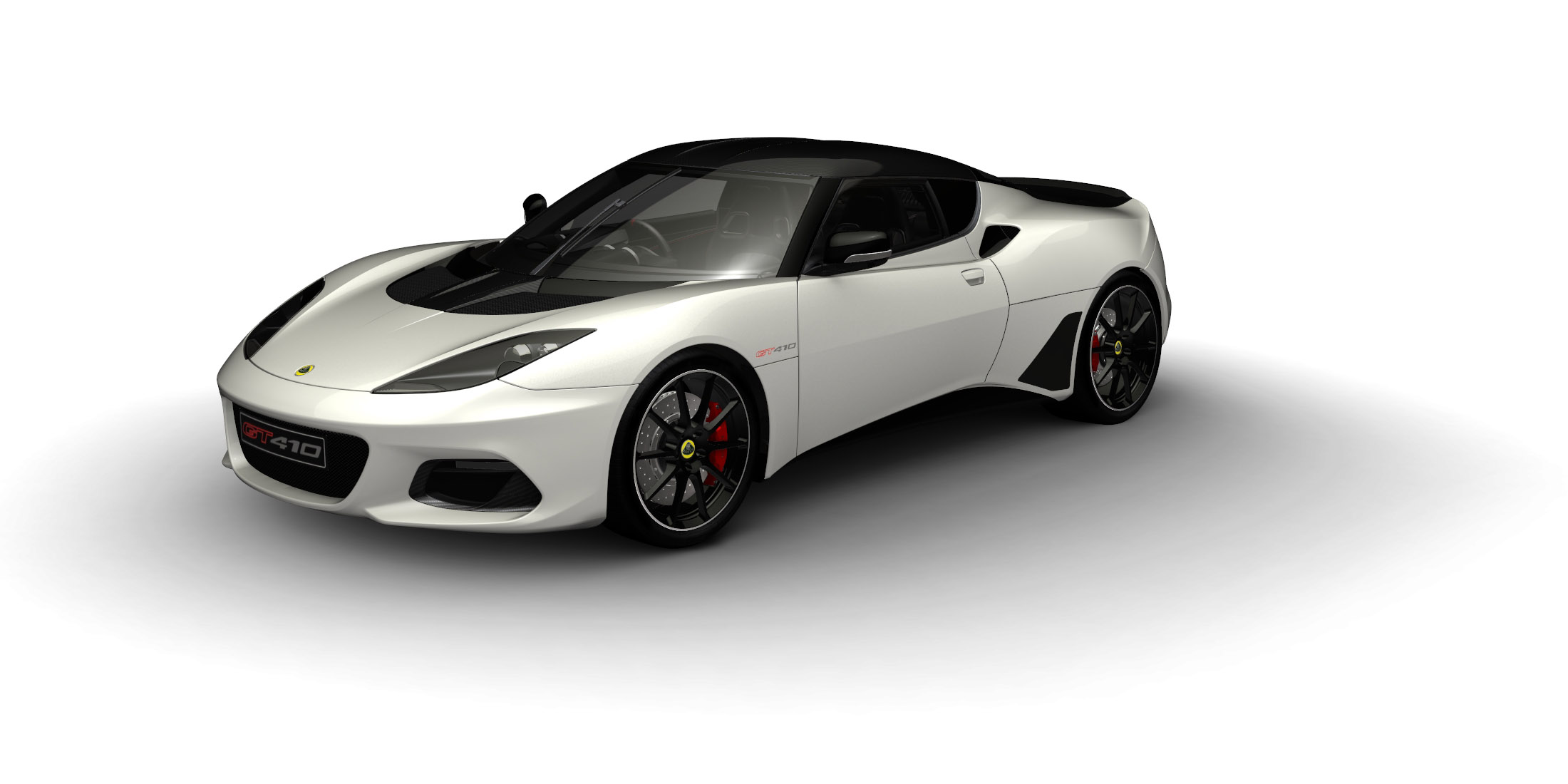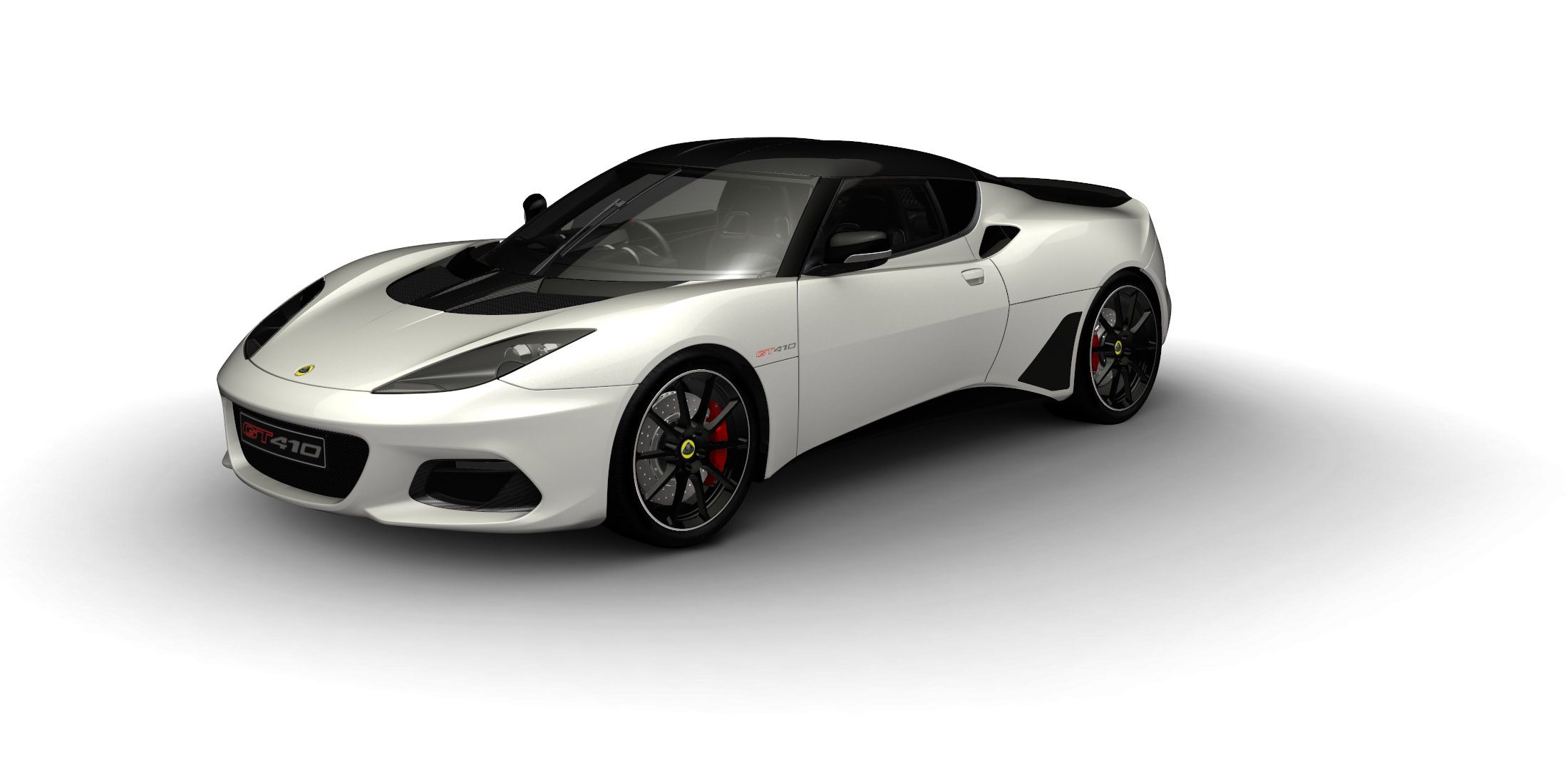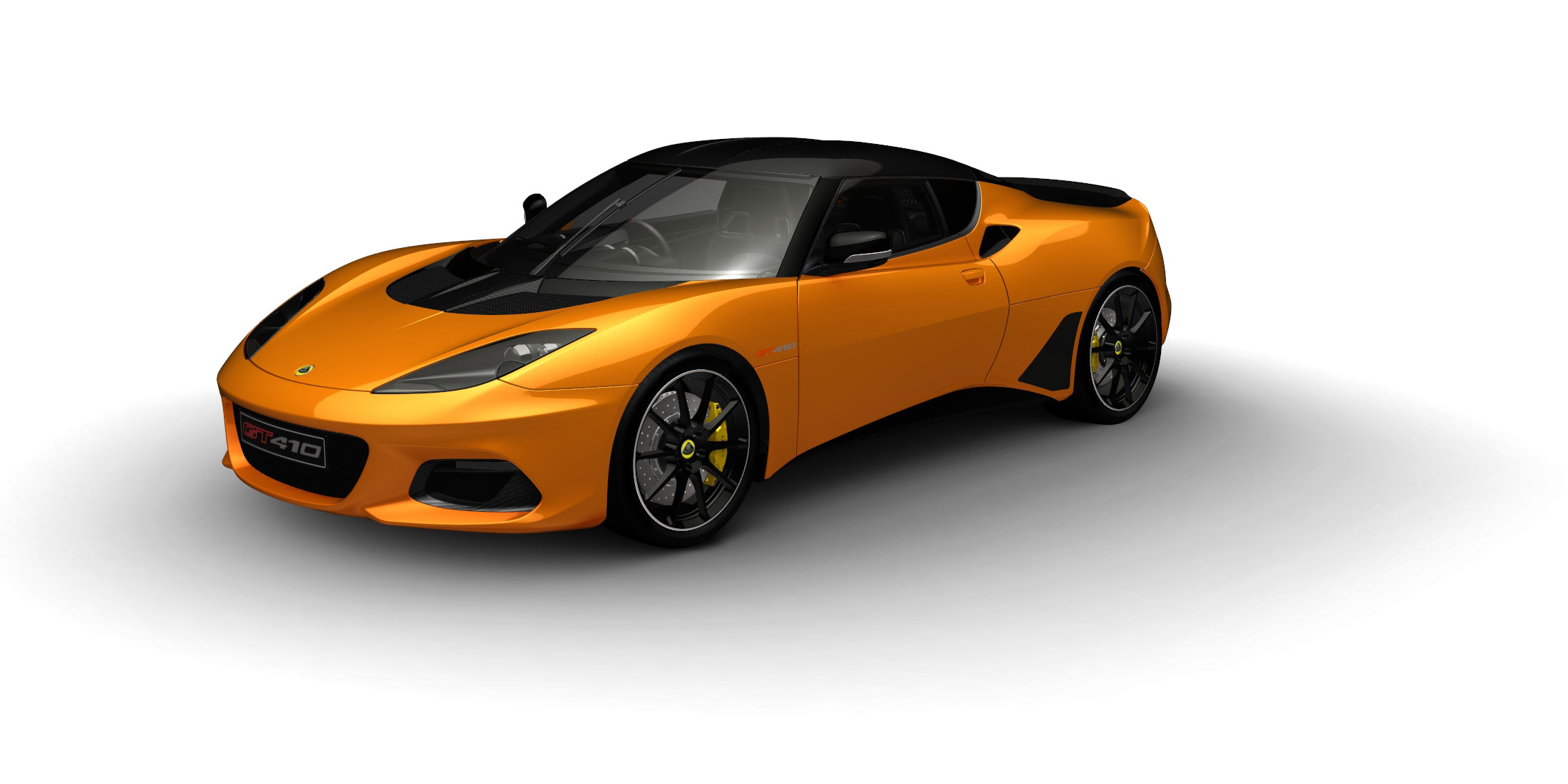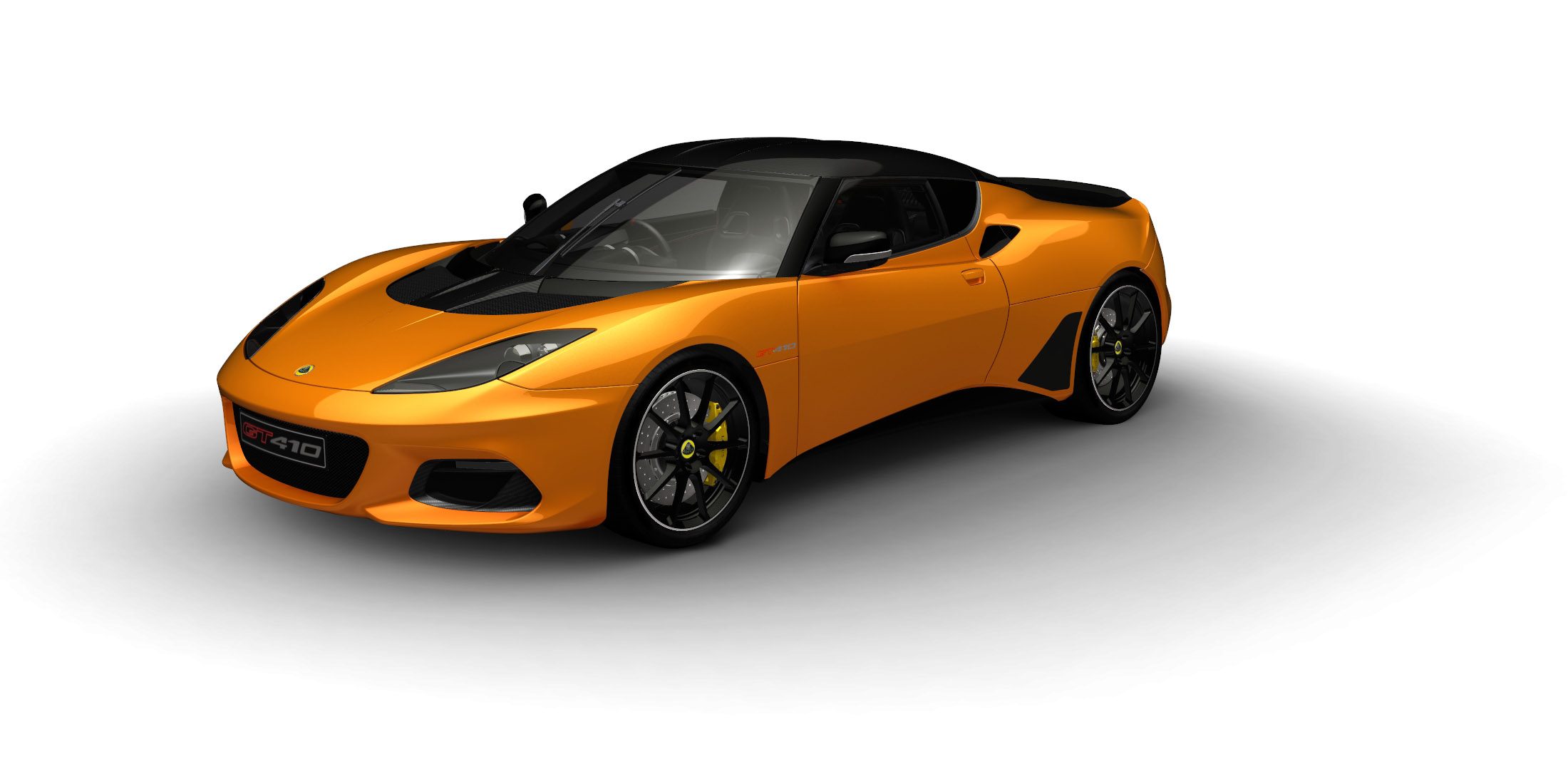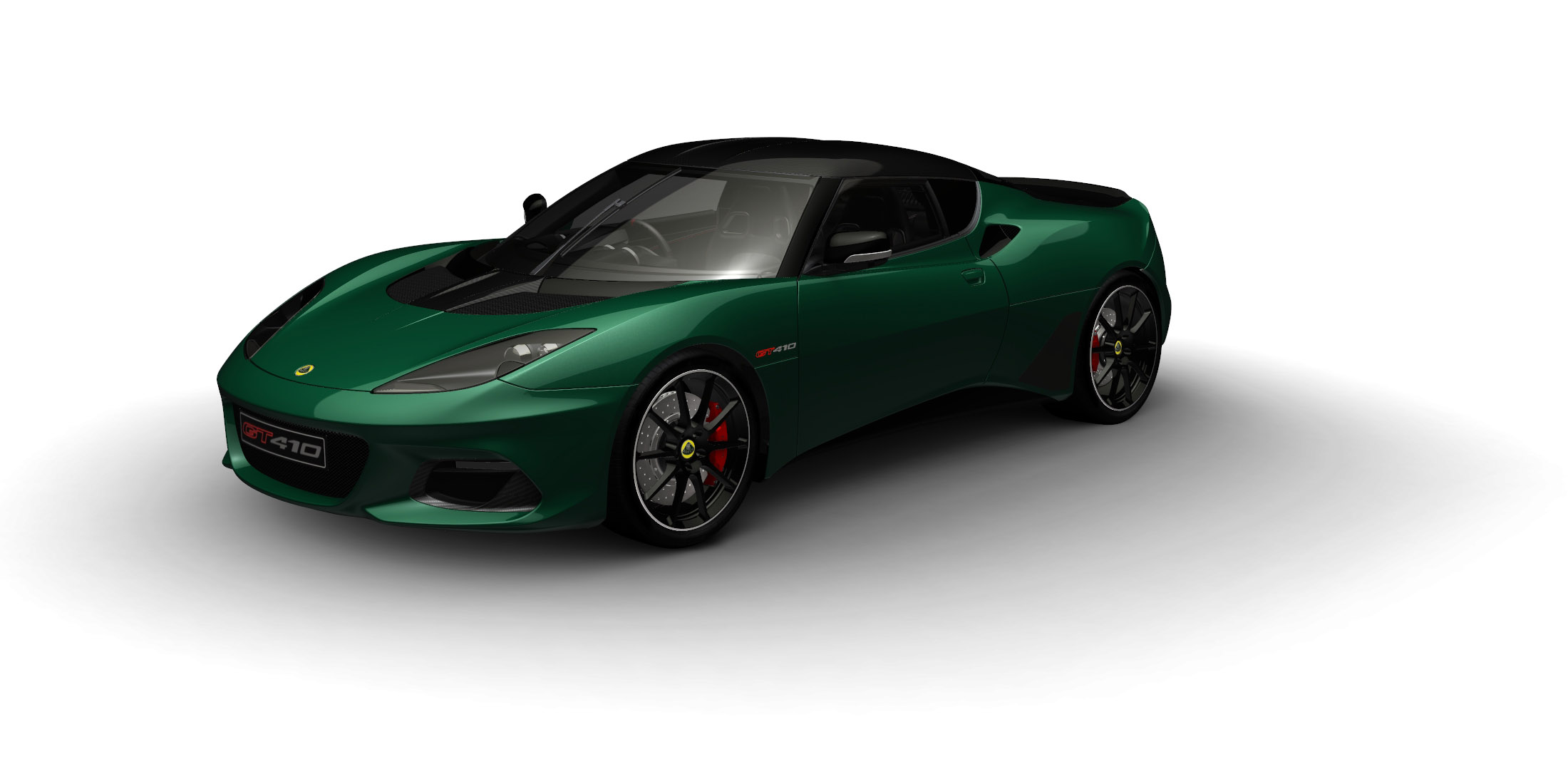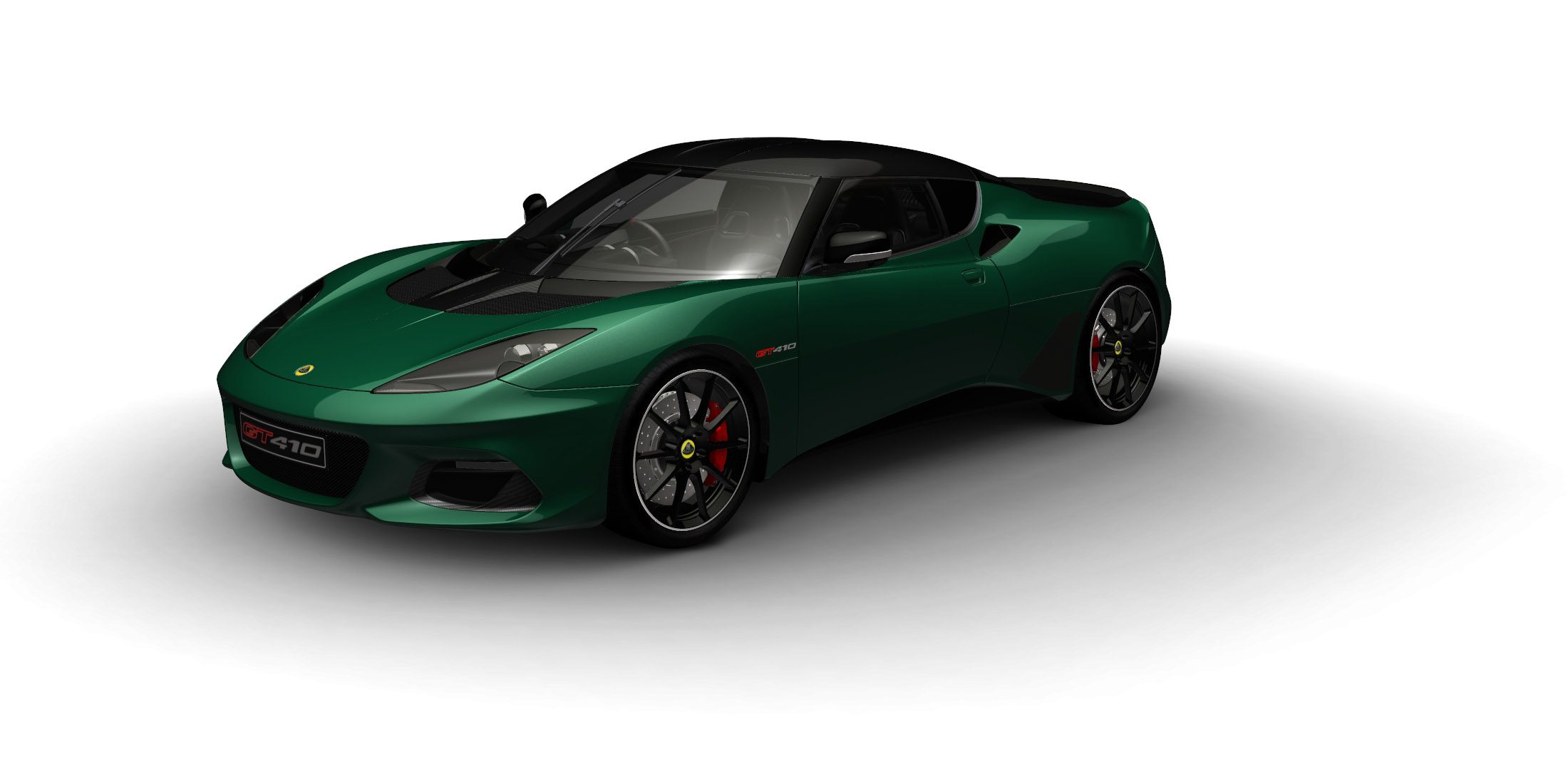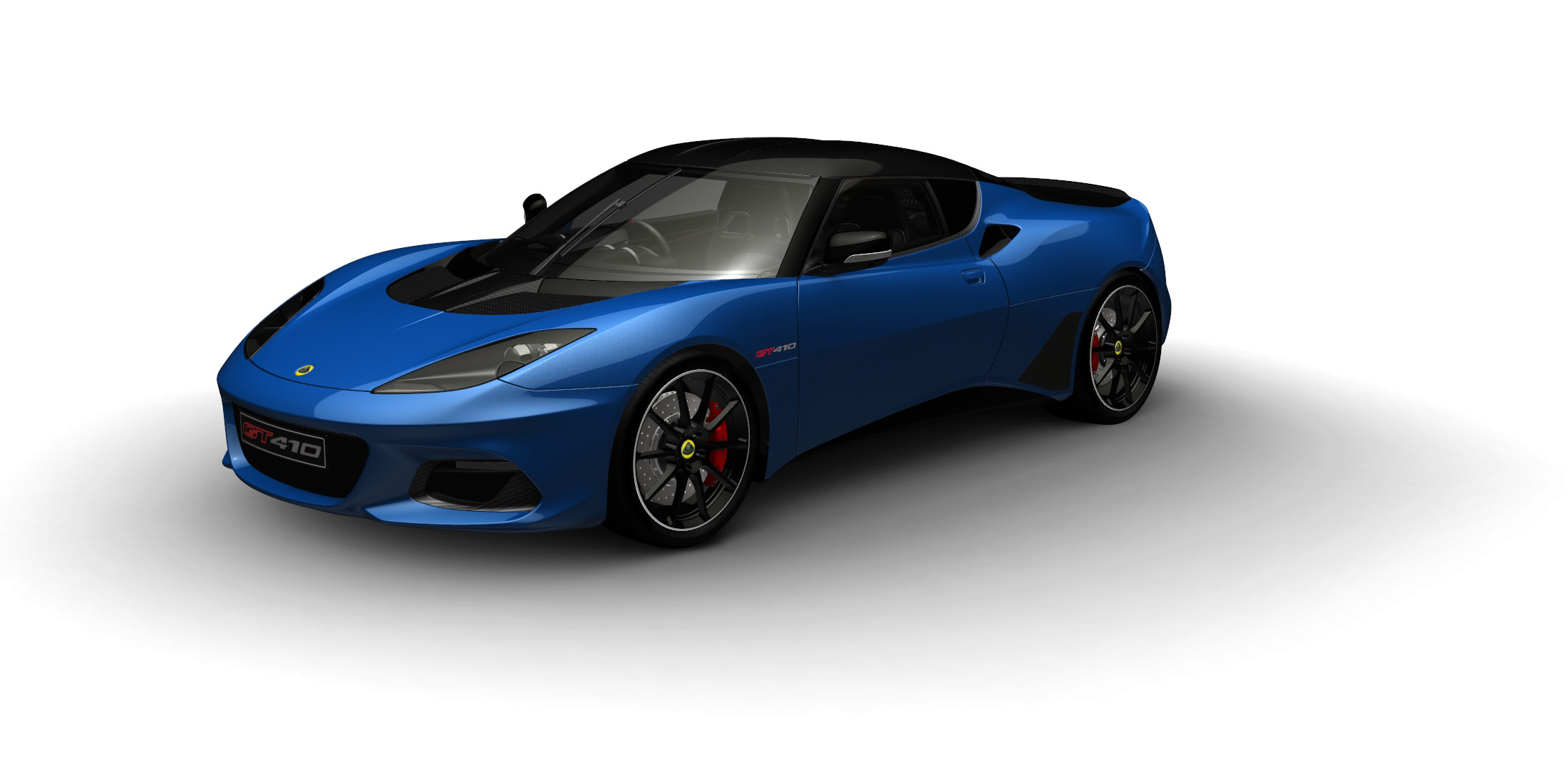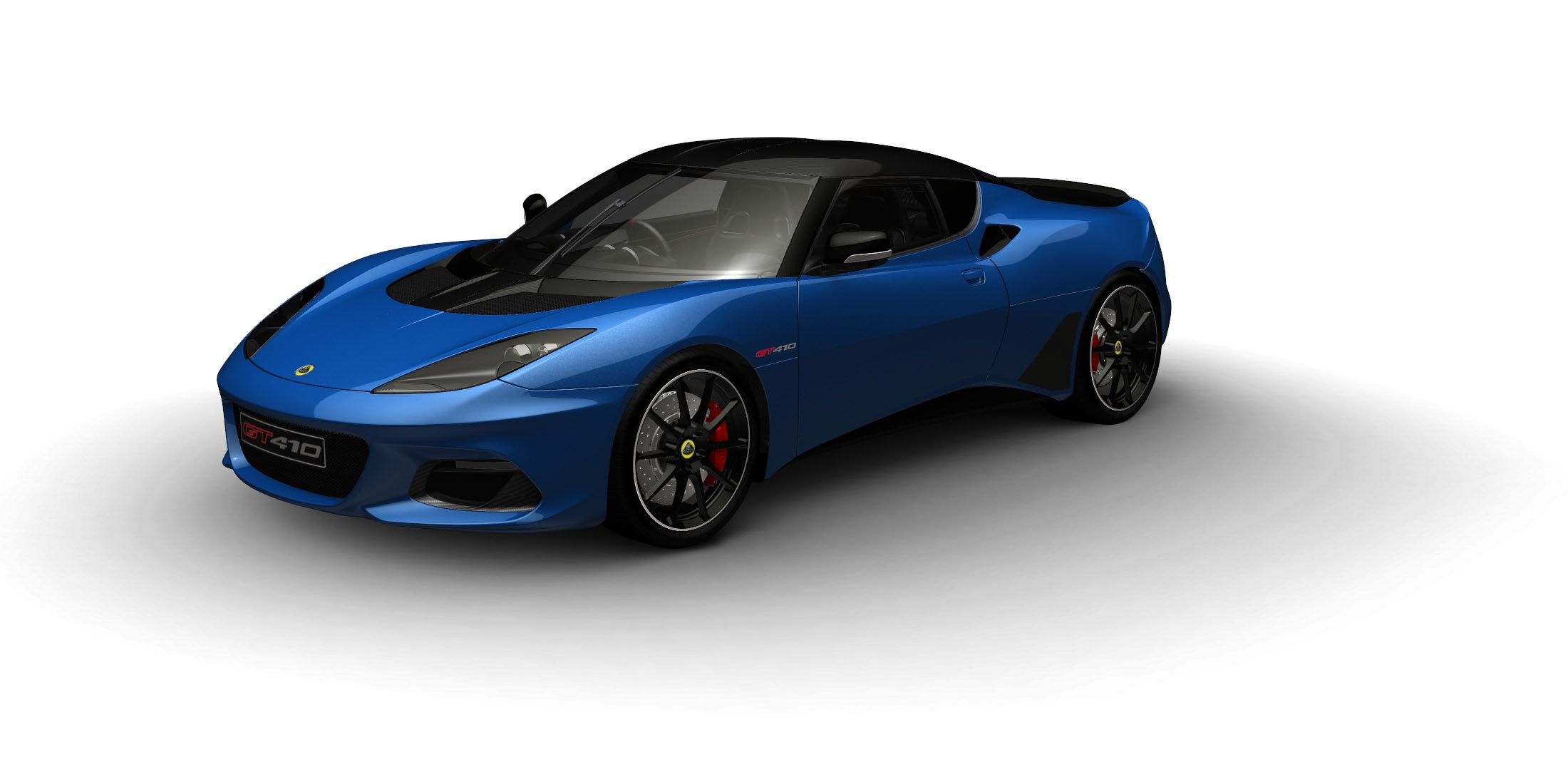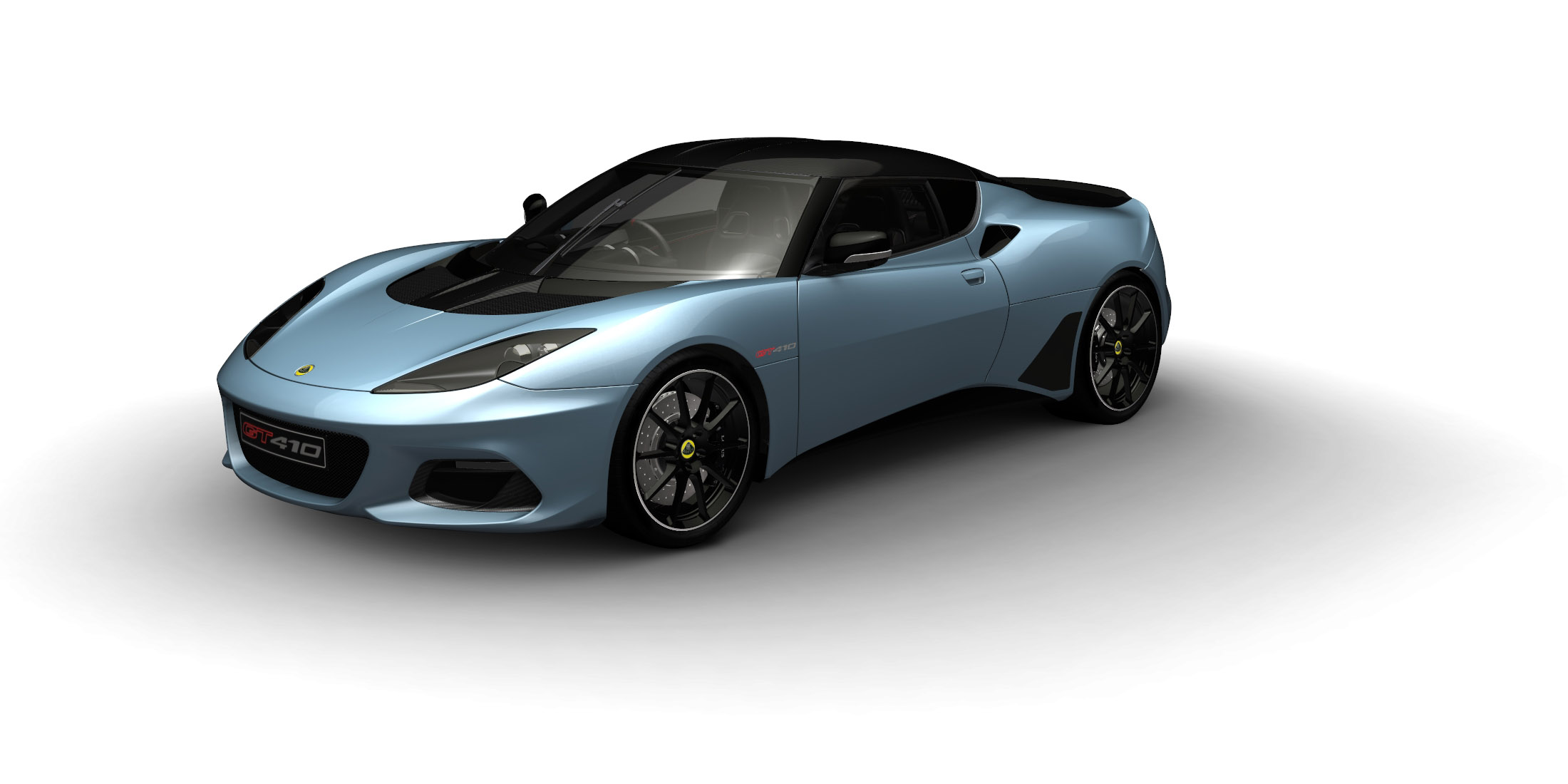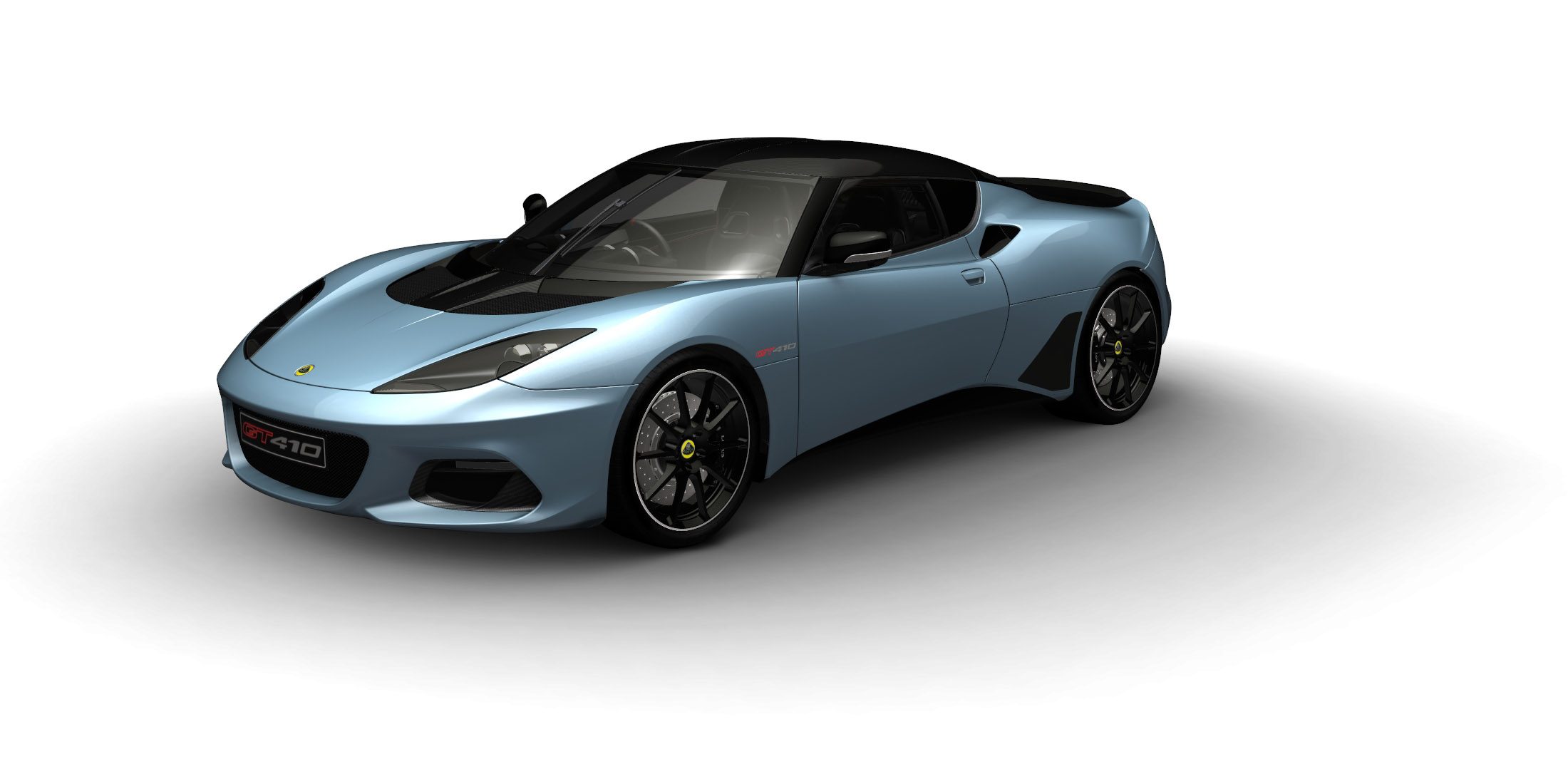 Metallic
Black

Dark Grey

Grey

Silver

White

Orange

Racing Green

Blue

Sky Blue
Model shown: Evora GT410 with black rims.
Specifications
Engine
| | |
| --- | --- |
| Type | Supercharged V6, 24 valve, water-cooled, all-aluminium |
| Displacement | 3456cc |
| Max. power | 410 hp (416 ps) |
| Max. torque | 295 lbft (410 Nm) |
| Power-to-weight | 301 hp/ton |
Transmission
| | |
| --- | --- |
| Manual | Sports ratio 6-speed manual transmission |
| | Gearbox cooler |
| | Lotus precision shift aluminium mechanism |
| Optional automatic | Sports ratio 6-speed automatic transmission |
| | Gearbox cooler |
| | Wheel-mounted lightweight aluminium paddles |
| Differential | Torsen-type Limited Slip Differential [manual only] |
Performance
| | |
| --- | --- |
| | Manual | Automatic |
| Top Speed | 186 mph (298 kph) | 174 mph (280 kph) |
| Acceleration 0-60 mph | 4.0 seconds | 3.9 seconds |
| Acceleration 0-100 km/h | 4.2 seconds | 4.1 seconds |
| Power to weight ratio | 301 hp/ton | 300 hp/ton |
| Aerodynamic downforce at 150mph | 96 kg |
Body & Chassis
| | |
| --- | --- |
| Chassis | Lightweight aluminium extruded and bonded |
| Body | Lightweight composite |
| Aerodynamics | Three element rear wing |
| Door mirrors | Electronically adjustable, foldable and heated |
Steering & Brakes
| | |
| --- | --- |
| Steering System | Rack and pinion steering box with 2.86 turns lock-to-lock |
| Steering Assistance | Lotus-tuned hydraulically-assisted steering |
| Brake System | Servo assisted 2-piece cross-drilled and ventilated brake discs with AP Racing four piston calipers (front 370mm x 32mm, rear 350mm x 32mm) |
| Brake Callipers | Red painted with black AP Racing logo |
Wheels
| | |
| --- | --- |
| Wheels | Lotus designed, ultra-lightweight, forged aluminium wheels (19" 8J front and 20" 9.5J rear 10 spoke alloy wheels) in silver or matt black |
| Tyres | Michelin® Pilot Sport Cup 2 tyres (front 235/35 R19, rear 285/30 R20) |
| TPMS | Tyre pressure monitoring system |
Dimensions
| | |
| --- | --- |
| Length | 4,394mm |
| Width | 1,972mm |
| Height | 1,223mm |
| Fuel Tank Capacity | 60 litres |
Consumption & Emissions
| | |
| --- | --- |
| | Manual | Automatic |
| Fuel Consumption | mpg [l/100 km] |
| Low | 16.9 (16.7) | 15.5 (18.2) |
| Medium | 26.4 (10.7) | 25.4 (11.1) |
| High | 31 (9.1) | 30.1 (9.4) |
| Extra high | 29.7 (9.5) | 29.4 (9.6) |
| Combined | 26.7 (10.6) | 25.7 (11.0) |
| CO2 emissions (combined)* | 239 g/km | 248 g/km |